---
Captain Thomas Barlow is a valued member of the Buggs Pro Staff. He wrote the following article that includes some Buggs Care tips, along with why he loves Fall Fishing!
Each year around late October and early November we're greeted with cooler weather, calming seas, and the urge to go hunting! When the hunters, be they duck, goose or deer, get prepped and ready I get a great big smile on my face! Hunting season for me means one thing. Fewer people on the water and a great chance of having a record day!
This month I wanted to write about something that I have been keeping pretty good track of since Heath first introduced me to what is now the #1 sight casting lure in my arsenal! Since my introduction to Buggs, I've spent a lot of time using, losing, and abusing them. Today, I set out to determine just how well Buggs stand up to the elements, and by that I mean redfish.
I ventured to an area that has been holding thousands of reds in singles and schools. Within the first hour I had landed 15, and the ¼ oz. Blue Crab Bugg showed no sign of wear. So I kept at it. And by the end of the day I had landed 37 redfish and a flounder on that same Bugg! (See the before and after pictures below.) It had no hair loss, no bend in the hook, and the hook was still sharp! That, my friends, is impressive!
---
Now what do you do with a Bugg that has gone through 37 redfish and a flounder? Most people would retire them. However, I am not one to retire a lure before it's time. And at this time, this particular Bugg has A LOT of time left! I do, however, want to try and keep it as new as I can. With a little Buggs care he'll be ready for the next trip.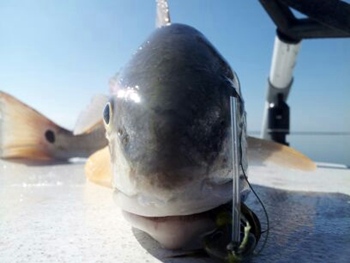 Cleaning and Storing Your Buggs
---
If I'm leaving it tied to my rod, I simply rinse it off with fresh water when I rinse my rod and reel. If I plan to store it, I take it off and remove any line from the eye of the hook. Then I dip it in fresh water and hang it up on a peg inside my fishing room. If you take proper care and rinse the salt off them, they will last a long time and will save you money.
I hope everyone has a wonderful November and gets out to enjoy the great outdoors this part of the country if famous for! And once again, if anyone has any questions, feel free to contact me.
Captain Thomas Barlow – Notorious Guide Service – texxan2000@yahoo.com
Thanks for visiting the Buggs Care page. I hope you'll benefit from this expert advice from Captain Barlow. Keep in touch and let us know how you do!
Head to Captin Barlow's website for more information