Custom Fishing Lures
---
Here at Buggs Fishing we have the ability to create Custom Fishing Lures to your exact specifications. We think of the jig head as a canvas, and can expertly tie custom Buggs for your own special purposes. Imagine having your own "Secret Weapons", in colors and sizes the fish (and your fishing buddies) have never seen! Shrimp, Crabs, Crawfish, and any variation of the Flats Buggs and Bass Buggs can be created in almost any color you can imagine.
We've been tying flies and lures for years, and have access to a wide range of materials in many color combinations. We're also connected with the Fly Fishing Industry, and are up on the latest materials and patterns. We can make suggestions based on classic patterns to the newest creations utilizing innovative materials you may not have heard of or seen.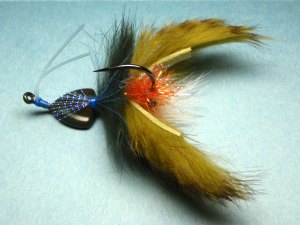 The Process
Go to the Contact page and tell us about your idea and provide your contact information. Then we'll talk about your Custom Fishing Lure needs. We'll ask for more detailed information, including pictures, samples, web links, and anything else we need to establish the pattern. We can also email pictures of your Custom Bugg prototypes to make sure everything is just right before work begins.
Once the Bugg pattern is established, we'll quote a price, give an estimated delivery date, and discuss shipping and payment options. The minimum order is six Buggs. Payment will be split into two parts, one-half up front and the balance prior to shipment. We will do our best to accommodate every request, but reserve the right to refuse to tie a pattern. No refunds or returns will be allowed on custom fishing lure orders.
So far we've been producing custom Buggs for Redfish Tournament Fishermen. Whether you fish tournaments or just need something different to throw at them, let us know how we can work with you on your custom Buggs.
Design Your Lure Today!