---
Target the Wily and Aggressive Flounder with Confidence using these valuable Fishing Tips!
Fishing Structure can be very effective, as I recently learned on an unforgettable trip with Captain Doug Stanford, a Rockport-area fishing guide. We were fishing the Fall migration along the Lydia Ann Channel at the South end of Aransas Bay. These tips can be applied up and down the Texas Gulf Coast, or any place Flounder are found. I hope you'll put them into practice and share your successful fishing stories with us!
Casting to Structure

We were fishing a steady outgoing tide during our trip. According to Captain Stanford, the most effective presentation was a 90-degree cast toward the structure. I learned that there was a much higher snag rate if I cast up or down current towards the structure. Casting straight at it saved my lures, and gave me the best feel so I could detect strikes.
The other thing we looked for was any indention or eddy we could find where the fish might be able to sit just out of the current and ambush fish. We didn't ignore the other structure, but we paid particular attention to the areas where rocks were removed or a bulkhead or other structure provided for an area where the current wasn't as strong.
This was a new type of fishing for me, both in targeting flounder specifically and fishing structure. I paid my dues the first day, watching Captain Stanford and my fishing buddy Travis catch lots of fish. But I was paying attention, and politely ignoring their encouragement (taunts) and offers to trade rods, reels, lures, or that I might be fishing with my left hand or with my eyes closed. What are friends for, right?!?!
Wile E. Flounder
I gained a new appreciation for this wily and industrious fish during our trip. It started on the first day was we pulled close to the rocks and Captain Stanford gave us instructions. He told us to cast at the little spaces between rocks, and shaded areas and any other small opening we saw. I thought he was joking, as the spaces and shaded areas he was talking about looked too small to hold anything. But he was right, and he and Travis started hooking up casting into these areas.
This was further exemplified the next day as we had fished one spot for 10 minutes or so catching a couple and missing a few more. Captain Stanford snagged his lure in a shallow spot, and pulled close enough so he could jump out and retrieve it. He jumped on a big rock with a shadow on the up current side that looked to be no more than 6 inches wide. To my surprise, not one but TWO nice flounder came scurrying out of the spot!
Leave no stone unturned when fishing structure for Flounder. They can fit in the most impossible looking spots. You'll be amazed at some of the strikes you get, and you'll also be amazed at their ability to hide in broad daylight!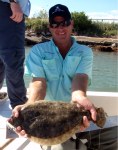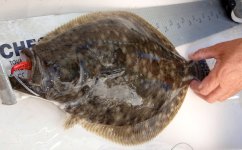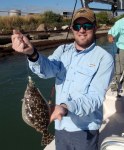 Wile E. Flounder
The next day, I borrowed a page from my bass fishing heritage and began casting as shallow as possible and bringing the lure back to me. I learned how a Flounder's natural camouflage and low profile allow them to get into super-skinny water. I watched as the bottom literally came alive and ate my lure in water just a few inches deep. These fish were invisible as I sight-cast to the structure, and I was rewarded by casting as shallow as possible.
Their flat profiles allow them to get into super-skinny water and ambush their prey. You'll do best when fishing structure for Flounder by starting your lure as shallow as possible, whether you see any fish or not. And you'll get to see the strikes!
Denizens of the Deep

While you'll get the satisfaction of seeing the strikes and catching some solid flounder in the shallows, the trophy saddle-blankets will almost always be found deeper. Captain Stanford capitalized on deeper structure during our trip, catching the largest fish. Here is the technique I learned from him.
As you come off the shallow structure, let the lure glide by raising your rod from the horizontal position. As you raise your rod tip slowly, the lure begins the stair-step decent into deeper water. Keep in contact with your lure by feel and by watching your line.
This will keep your lure close to the bottom where the fish are. When your lure hits the bottom some slack might develop, and you'll be able to see your line curl up above the surface. Only then do you use your reel. Otherwise, this technique only uses the rod, from the horizontal position to about 10 or 11 o'clock.
Let it glide, barely hop the rod tip up and let it down, follow it down, keep in contact. Keep lure close to the bottom. You can tell if something hits it. Take out slack when lure hits bottom and line curls up. Then lower rod tip back horizontal, rise up to 10 or 11 o'clock.
The Take
Much has been made of setting the hook on flounder. I've heard everything from waiting long enough to smoke a cigarette (and since I don't smoke I have no idea how long that is) to waiting a second or two. This trip was a good lesson in flounder hook sets, and I'll give you my take.
Fishing structure will often lead to strikes from small fish, and these should be pretty easy to discern. These are rapid fire taps, and will often lead to missed fish. Waiting a second or two will give the little buggers some time to get their mouths around it, and you might be reeling in a grouper, croaker, piggy perch, or rockfish. But most likely you'll miss the fish, and will get your lure back in there for flounder.
Speaking of flounder, these will not be rapid fire taps, but solid THUMPS! And herein lies the rub, as they say. If you're a fisherman that hasn't solely been focusing on flounder, everything in your being will need to set the hook as soon as you feel this thump. I couldn't help myself, and did this every single time I felt it.
I probably lost a couple fish, but I also hooked up with 3 or 4 the second day of our trip. My best advice here is to delay your hook set for a second or two if you can help it. This is for artificial lures, mind you, because I hear that you need to wait a while with bait. But since we're talking lures, the consensus is a second or two will do the trick. And then really cross their eyes. Setting the hook hard will help you penetrate their bony mouths, and then you're in business!
Buggs Do The Trick
Speaking of lures, you had to figure we were using Buggs, right? Indeed we were, and we learned that the Flats Buggs with Double Bunny Tails did the trick. We got plenty of strikes with Curl-Tail Buggs, but the tails didn't last long. And they weren't worth replacing, so our best advice is to use the Double Bunny Tail variety.
The 1/8 oz. lures worked well for the shallow water and when the current wasn't too strong. When the current was strong and we were working the deeper drop-offs, the 1/4 and 3/8 oz. lures were the ticket. Soaking the lures in Gulp juice might help your chances with flounder, but it will also increase the strikes from the other little guys.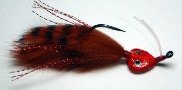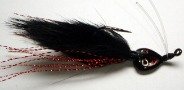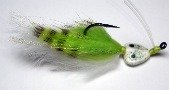 Capt. Stanford give his take on the Flats Buggs with Double Bunny Tails,
I like them because of the natural hair, where the slightest movement of your rod or the current makes them come alive. The absorbent hide is also a plus if you want to soak them in Gulp juice. The flat head design helps it glide and avoid snags. And I love the hooks, a quality sharp hook is important to take advantage of strikes.
Conclusion
I learned a ton and had an awesome time fishing with Captain Stanford in Rockport. Flounder love structure, and these tips will help you take advantage of it. And besides being a killer redfish and trout lure, the Flats Buggs proved themselves with Flounder. Rockport is a premier coastal destination, and the Lighthouse Inn is a classy and affordable place to stay. And for guaranteed fun and an educational fishing trip, Captain Doug Stanford is second to none.
Thanks for visiting the Flounder page. I hope you're more confident about fishing structure for Flounder. These challenging fish are rewarding to catch and delicious to eat. We'll continue to add fishing tips, and hope that you'll share yours as well.