The new Trout Thumpers just might help you land your personal best speckled trout. They helped me accomplish that very thing last May while on a trip to Baffin Bay. This was my second trip to the most famous big trout destination along the Texas coast. I had learned my lesson the past year, and was testing my newest design. I had never designed a fishing lure specifically for speckled trout, and was hoping the improvements I had made to the standard paddle tail would prove successful. I didn't want to design another paddle tail, I wanted to design the best paddle tail! I think you'll enjoy reading the story...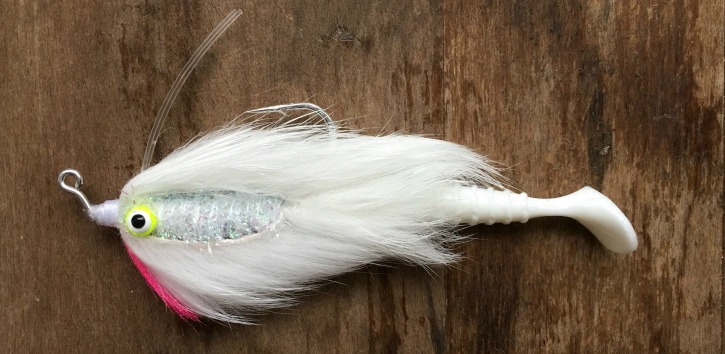 I don't fish soft plastics. Not because they don't work, and not because I'm allergic. I just won't learn anything when I fish them. I'm always trying to test something when I fish. I'll bring along a few Bugg prototypes, a new color, or fish one my my jigs a little differently. This helps me with lure design and with giving good advice to my customers about how to catch more fish on Buggs. So that's why I don't fish soft plastics. This used to put me at a disadvantage, but not anymore! Let me explain...
My buddies and I take a guided fishing trip together every spring. We always have a contest, and the rules are pretty simple. Add the length of your biggest redfish to the length of your biggest trout, and the winner is the guy who has the most combined inches of his two biggest fish. Ever since I started Buggs I've been kicking their butts in the redfish category. I've won the contest a few times, but I was at a disadvantage when it came to speckled trout.
Now I told you above that I don't fish soft plastics. And I mean the paddle tail or straight tailed variety on a jig head. But I will fish topwaters, and topwaters have helped me win in the past. But normally I lose the speckled trout part of the contest by a wide margin. All of the Buggs I've developed have been really effective on redfish, but not so much on trout. This was getting old, and I wanted to be more competitive when it came to the other half of the contest. Here's how I got my revenge, and how the new Trout Thumpers were developed.
The past two years we fished with Aubrey Black at Baffin Bay Rod & Gun. We went down there for the same reason most do, the chance to catch a 30" speckled trout. If you saltwater fish in Texas, you know Baffin Bay gives you the best shot at a trophy speck. The first year we went down we encountered some bad weather that cut our fishing time short, and I tied up some mullet imitations. I caught a decent speckled trout, but nothing to write home about. The second year we went I was more careful about doing my homework, and the results were much better.
Recon, Challenge Accepted!
I spoke with Aubrey and Sally several times before our trip in May of 2016. They told me their fondness for Saltwater Assassin Sea Shad paddle tails in white. They fish them on 1/32 oz jig heads so they don't sink quickly and so they can fish them slowly. This was my inspiration for the new Trout Thumpers, and confirmed so much of my previous saltwater fishing experience. Before I started Buggs I had fished similar models of 4" paddle tails from other companies. And my buddies still fished them and consistently outfished me when it came to speckled trout. So I knew they worked, and it stands to reason that they would. There are lots of baitfish that fit that 4" profile, and the action of a paddle tail is deadly on fish!
Designing the Trout Thumpers
So the challenge I embraced was to create a paddle-tail Bugg. And I had lots of materials, techniques, and previous knowledge at my disposal. I didn't want to create another paddle-tail, I wanted to create the best paddle-tail! It started with the guts of this new Bugg, and my experience developing the Ratic Shad Bugg came in handy. I started with the same hook, the 4/0 Eagle Claw 413 Saltwater Jig Hook. This stainless steel hook is strong, sharp right out of the package, and will hold up to saltwater very well. If you remember, for the Ratic Shad I developed a set of belly weights. They allowed me to tie in weight wherever I wanted along the hook shank. For the Ratic Shad I located the weight near the bend in the hook to give it that darting action. To secure it back there I had some straight stainless wire made up. Both of these components would be used on the new Trout Thumpers. Below you can see the guts of this new Bugg.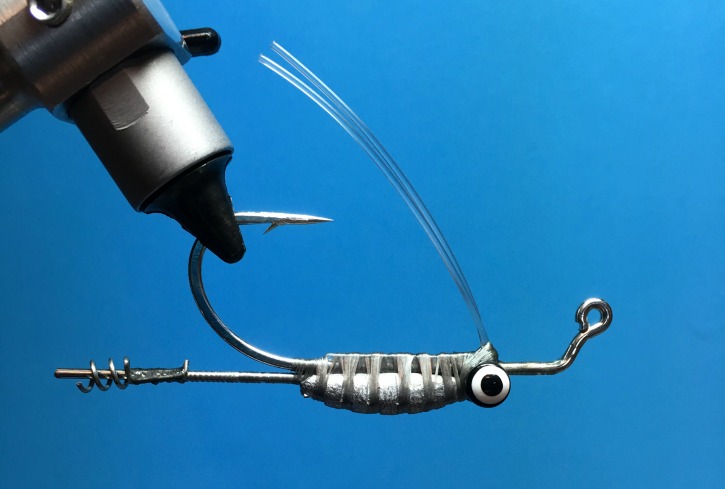 At about this same time I discovered a different type of soft plastic from my supplier. It was a two inch paddle-tail. This was just what I needed at the back of this new Bugg! To get the 4" profile I was looking for I tied a straight piece of stainless steel wire, called a shank extension, to the hook shank. On the end of the shank extension I tied one of my custom screw-locks. When I installed the paddle-tail on the screw-lock I simply measured from the end of the tail to the bend of the hook to get that perfect 4" length.
Taking a cue from Aubrey and Sally, I tied in the lightest belly weight I had in the middle of the Bugg. I wanted it to sink slowly so that I could fish it right along with them as they fished their soft plastic on a 1/32 oz jig head. In front of the weight I tied in double pupil lead eyes, the same type I used on the Ratic Shad. I like adding a bit of realism wherever I can, and these eyes would do the trick and give me a little more weight in the middle. So the guts of the Trout Thumpers were done.
It was pretty easy to figure out the rest. Similar to the Ratic Shad Bugg, I'd palmer the middle with krystal flash chenille. Then I'd tie cross-cut rabbit just in front of the tail. On the top and the belly I'd tie in a magnum rabbit strip. And that fluoro-fibre accent that Henry Cowen said was so effective? You bet I'd add it to the throat, just like the Ratic Shad. For good measure and a little added durability, I sent some thread wraps through the krystal flash chenille. And then the trip was upon us. I was confident that I would imitate the action and profile of the Black's lure of choice. But would the fish respond?
Armed with several 1/16 oz versions of the Trout Thumpers in all white, we made our way south in May of 2016. Is there anything that matches the anticipation of a fishing trip? For me it was even more significant. The weather was cooperating and I was testing a new Bugg. If things went well, I was hoping to add it to the Buggs arsenal.
Time for Testing
A couple of things were on my mind as we motored to the first spot we'd try. I remember Aubrey saying that big trout might be up shallow, and so I wanted to be in that thigh deep sweet spot. There were five of us fishing, and we'd have to sort out our fishing spots. And I knew that throwing light lures would be easier on a spinning rod, especially if it was windy. The wind cooperated, but the spinning rod still came in handy. There would be no problem with distance or backlashes today.
A quick word about spinning rods. I grew up fishing baitcasters, very rarely using spinning gear. But since developing some really light bonefish and redfish jigs I've decided to learn to use them. Since then I've grown really fond of TFO rods, and have found spinning rods in general very useful. That morning I was fishing the 3 piece travel rod from TFO, a 7 footer with a Medium Light action.
That morning our first wade of the day was a really short boat ride away. In fact, we could see the boat ramp! We spread out for the wade, and I took one of the closest spots to the bank. It was a beautiful morning, cool enough so we needed waders but warm enough not to need a jacket. The water was trout green, and we were fishing over grass with some sand pockets. We started picking up the occasional fish, and each of us caught some decent fish. Up shallow Travis and I caught more redfish than trout, and Jeremy and Travis were catching more trout in the waist deep water they were fishing.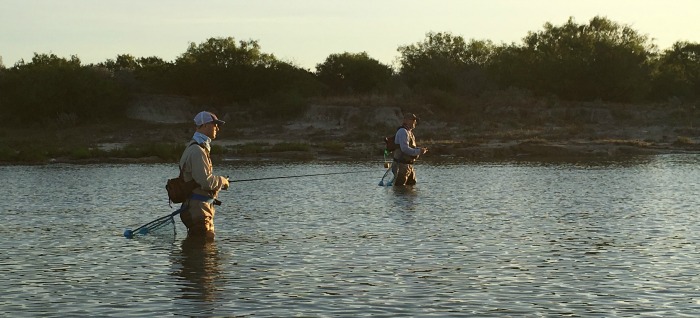 As we got further down the bank we approached a spot near the mouth to a back pond, and Captain Black told us there might be a big trout up shallow. By this time I was closest to the bank and was hoping to hook something big. I slowed down and worked the area methodically. I caught a slot redfish that really got my blood pumping. I thought it could be the big trout I was looking for, but when I saw the bronze back I was knew it was a red. Disappointed in one sense, but this was the first red on one of the new Trout Thumpers!
Jackpot
A few more yards down the bank I hit the jackpot. Just where she should have been, a big trout hammered the new Bugg! I got a good hook set on her and held my breath as she fought and shook and changed directions several times. I had already lost a good trout who spit the hook, and I sure didn't want to lose her! She finally came to my net, and I knew I had my personal best speckled trout. She measured over 27" and just under 7 pounds. For two full days of fishing, nobody caught one bigger, including Captain Black. A better confirmation for the new Trout Thumpers I couldn't imagine!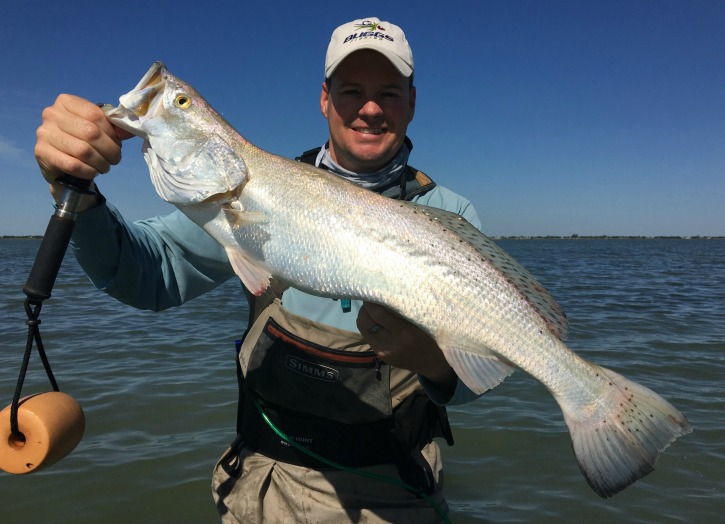 During the rest of our trip we caught trout and redfish in water from shin deep to over four feet. The new Bugg performed just as well as anything else. And it proved to be extremely durable! I fished the same lure for two days, and it was still going strong. I had changed out the paddle-tail several times, but the rest of the Trout Thumper had held up. Here's a picture of it from the trip. Now that the testing was complete I needed a name.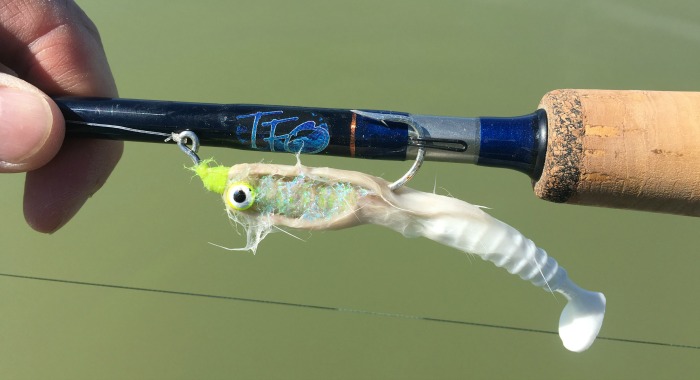 Lures like this are commonly called Swim Baits, and so I decided to call it a Swim Bugg. And with the action of the tail and the game fish I had in mind when I developed it, the full name for these new lures would be "Trout Thumper Swim Bugg". That's a mouthful I know, so I shorten it to Trout Thumpers.
Not Just For Trout
The cool thing about a 4" paddle-tail swim bait is that just about anything we fish for eats 4" bait fish. Bass fishermen use these types of baits all the time, and in saltwater these baits are fished for speckled trout, redfish, flounder, snook, tarpon, jacks, stripers, bluefish, and fluke. On that same trip to Baffin Bay I caught redfish in thigh deep water and sight casted several more over grass in less than two feet of water. On a trip to Belize last October we found some jacks marauding schools of baitfish in an open bay. Trout Thumpers fooled those jacks and the hook and components held up just fine. This spring I've caught dozens of largemouth in shallow water. Here's how I worked the lure for these different species.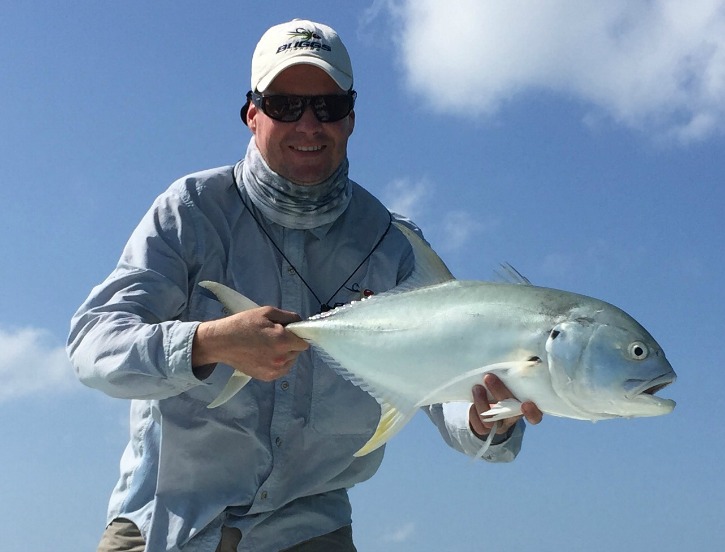 How to Work Your Trout Thumpers
Trout Thumpers are great for swimming. The produce lots of vibration in the tail, and the entire body from tip to tail moves because of the rabbit. For speckled trout I always start deep by making a cast and letting it sink toward the bottom. Swimming it along the bottom while giving it some solid twitches of your rod tip is normally all it takes. Let the fish tell you how deep they are and how fast of a retrieve they want that day.
In the marsh for redfish and flounder a straight retrieve works really well. Trout Thumpers don't sink as quickly because they're belly weighted, and so you can go up in weight if you like to get long casts. If you're sight casting then I recommend the lightest weight to make the smallest splash. Another word about sight casting redfish with this lure. On the Baffin trip I had no problem sight casting redfish over grass. But further down the bank I found redfish cruising sand/mud flats in less than a foot of water. They didn't want Trout Thumpers under these conditions. I just don't think they were expecting a baitfish like this. I think I would have been more successful with a Beastie Bugg, Double Bunny, or even one of the Bonefish Buggs.
For largemouth, a straight retrieve through and around shallow water will draw some vicious strikes on Trout Thumpers. I love swimming them under the surface where I can see the bass hammer them!
Final Production Model
I didn't travel to Nicaragua to get the Trout Thumpers made until January of 2017. This waiting period was tough, but allowed me to make some final tweaks and improvements. I found a sparkly, strong, thick accent thread to add to the middle of the lure through the krystal flash chenille. It's called Veevus Iridescent, and contains UV a UV reflective component. In addition to making Trout Thumpers more durable, you get an accent color through the middle of the flash.
Finally, I figured out a way to add a double weed guard to the lure. It's two sections of 40 pound Mason Hard Mono, and is anchored to the eyes. It was quite a process to figure it out, but is indispensable when dealing with grass, twigs, roots, and other light cover.
Colors for Trout Thumpers
I had two things in mind when deciding on colors. First, I wanted to match the hatch on common baitfish found in clear coastal waters. To that end I developed the Croaker color to imitate croaker, the Greenback color to imitate Threadfin Herring and Spanish Sardines, Ghost to imitate Scaled Sardines, and Gray Ghost to imitate Mullet.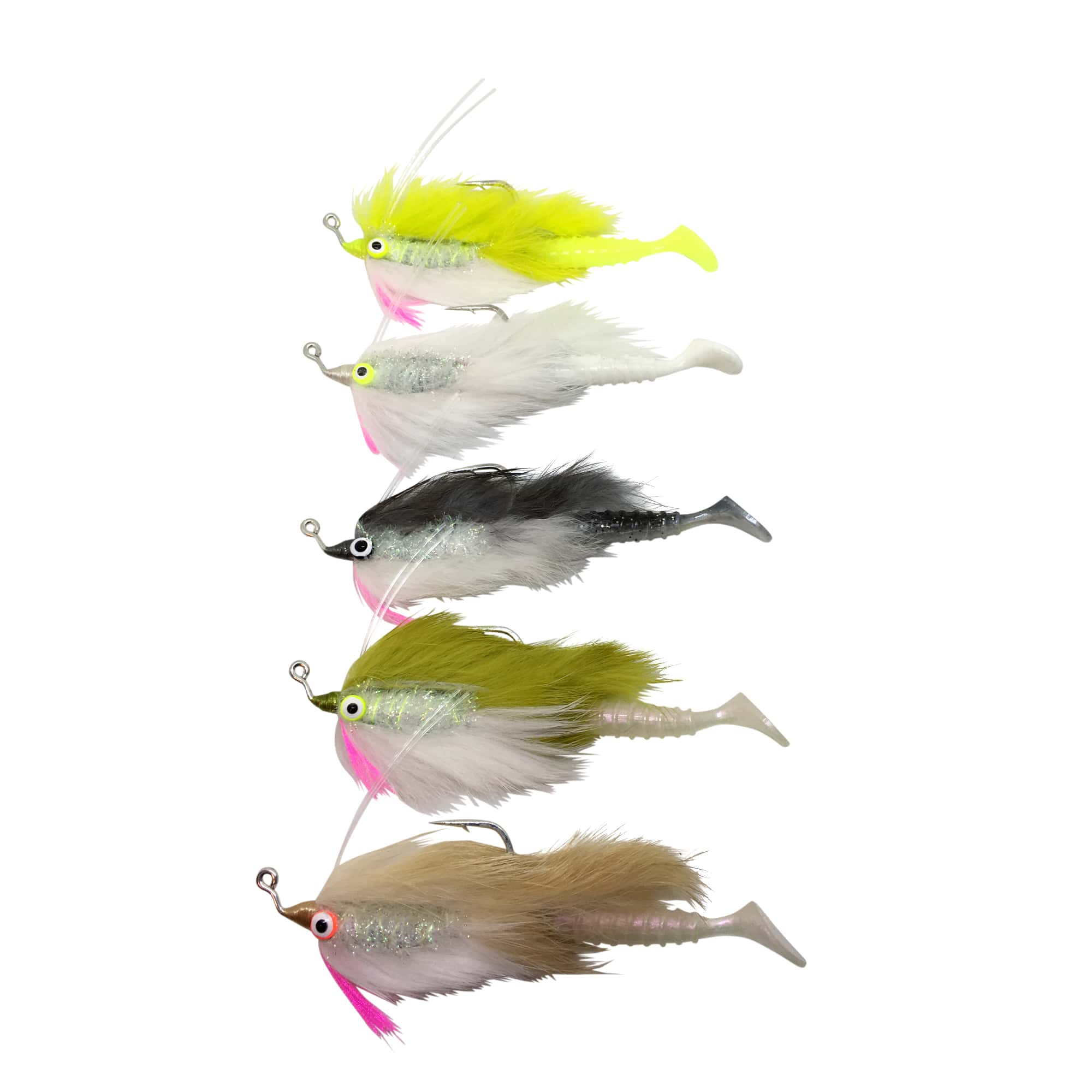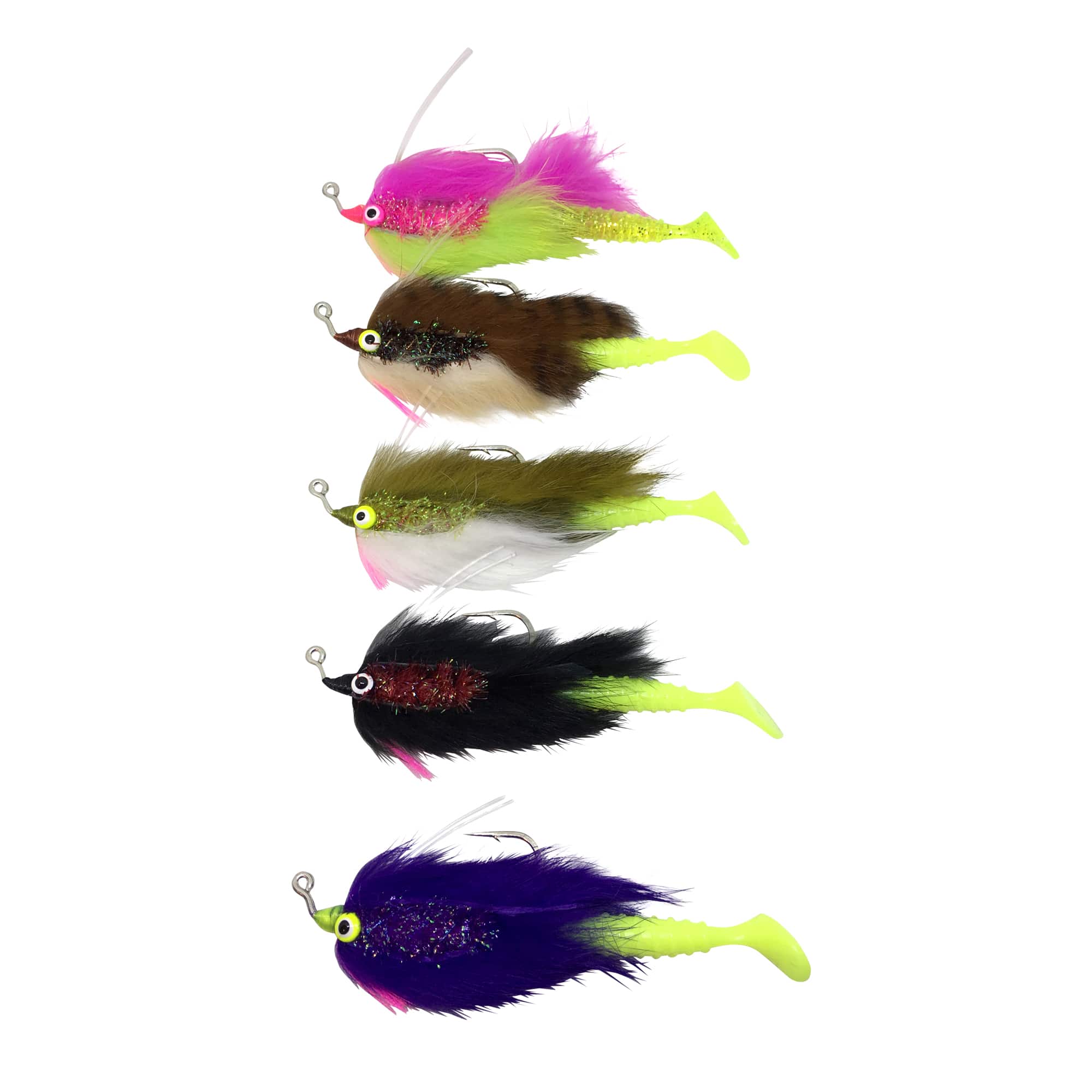 Then I went with the colors I had been using for years in the murkier waters we often find along the Gulf Coast. Dawn Patrol, Geaux, Chained Beast, Key Lime, and Texas Tea all have a fire tail of fluorescent yellow chartreuse. And then there's Electric Chicken, a color that doesn't make much sense until you catch a bunch of fish on it. Then you decide that a combination of Hot Pink and Chartreuse Green doesn't really imitate anything but the fish really seem to like it!
Please Try It For Yourself
I would really appreciate it if you would buy some Trout Thumper Swim Buggs and try them for yourself. I set out to create the best paddle-tail I could, and I would put it up against anything in your tackle box. They are realistic, durable, and have tremendous action to them. The tails are very simple to change out, and you have the flexibility of mixing and matching colors. And guess what also looks really good on that screw-lock? 3" Bugg Tails, the same ones we use on Curl-Tail Buggs! If swimming on the fall is super important to you, you'll get it big time with these tails.
We've put together two kits, the Clearwater and the Coastal. The Clearwater Trout Thumper kit comes with the more natural, realistic colors: Croaker, Greenback, Gray Ghost, Ghost, and Key Lime for a brighter option. This kit is very popular in Florida and other clear water flats.
The Coastal Kit is great early in the day, late in the day, and in murky water. The Dawn Patrol, Geaux, Chained Beast, Texas Tea, and Electric Chicken are all found in this kit. Every kit comes with replacement tails, and we even offer a Master Kit that includes all 10 colors!
Make My Joy Complete
I want you to know that you'll make my day if you send me pictures and a report of the fish you catch on the new Trout Thumpers. That's the payoff for me, and I hope you'll let me know how it goes out there!
Tight Lines,
Heath Hippel
Owner and Founder, Buggs Fishing