I travel to my factory in Nicaragua once or twice a year. My main purpose for going down there is to teach the ladies a new pattern. This time I taught them how to tie the 2nd Generation Hydra Bugg Swim Jig. I know that's a mouthful. If we're talking I'll refer to it as a Hydra Bugg, and that's what I'll do in this post. A couple things about this trip were different from the normal routine, and I'll tell you all about them.
First, I hadn't been down there in over a year. The main reason is that I've held off on introducing a new pattern. To grow my business, the wisest thing to do is increase production of my existing Buggs. I haven't made this a priority in the past, and it's hindered my growth. So I'm slowing down a bit. However, it's tough to slow down my creativity. That's where my brain automatically goes. And don't tell anyone but I'm still creating new Buggs, I'm just holding off releasing them.
Second, two buddies of mine came down there with me. They're the brothers Kulcak, Steven and Alan. They have a saltwater fly business called Sight Cast Fishing Company. They're really talented tyers and have made quite a name for themselves. They specialize in flies for Redfish in shallow water. They also make some cool shirts, stickers, and other branded apparel. I met them a couple years ago and over that time we've talked business. Here's a link to their site.
https://www.sightcastfishing.com/
In the course of our conversations, I learned that they tie all of their own flies, in addition to having day jobs and families. Their business is growing and they're committed to moving it forward. So I kind of knew they'd need help at some point. I offered to talk with them about getting help from the ladies in Nicaragua, and they liked the idea. But most important, they acted upon it. They wanted to know when I'd be going back there. I told them this Fall, that I wanted to get a head start on preparing for the Houston Fishing Show in March of 2020.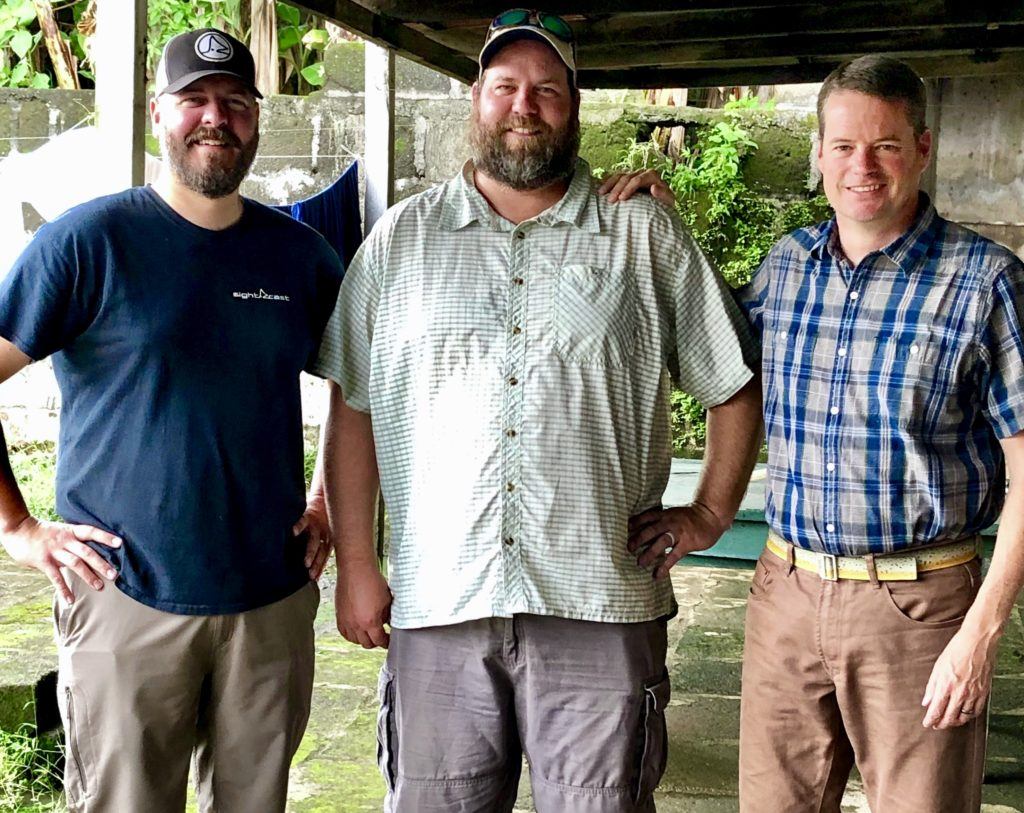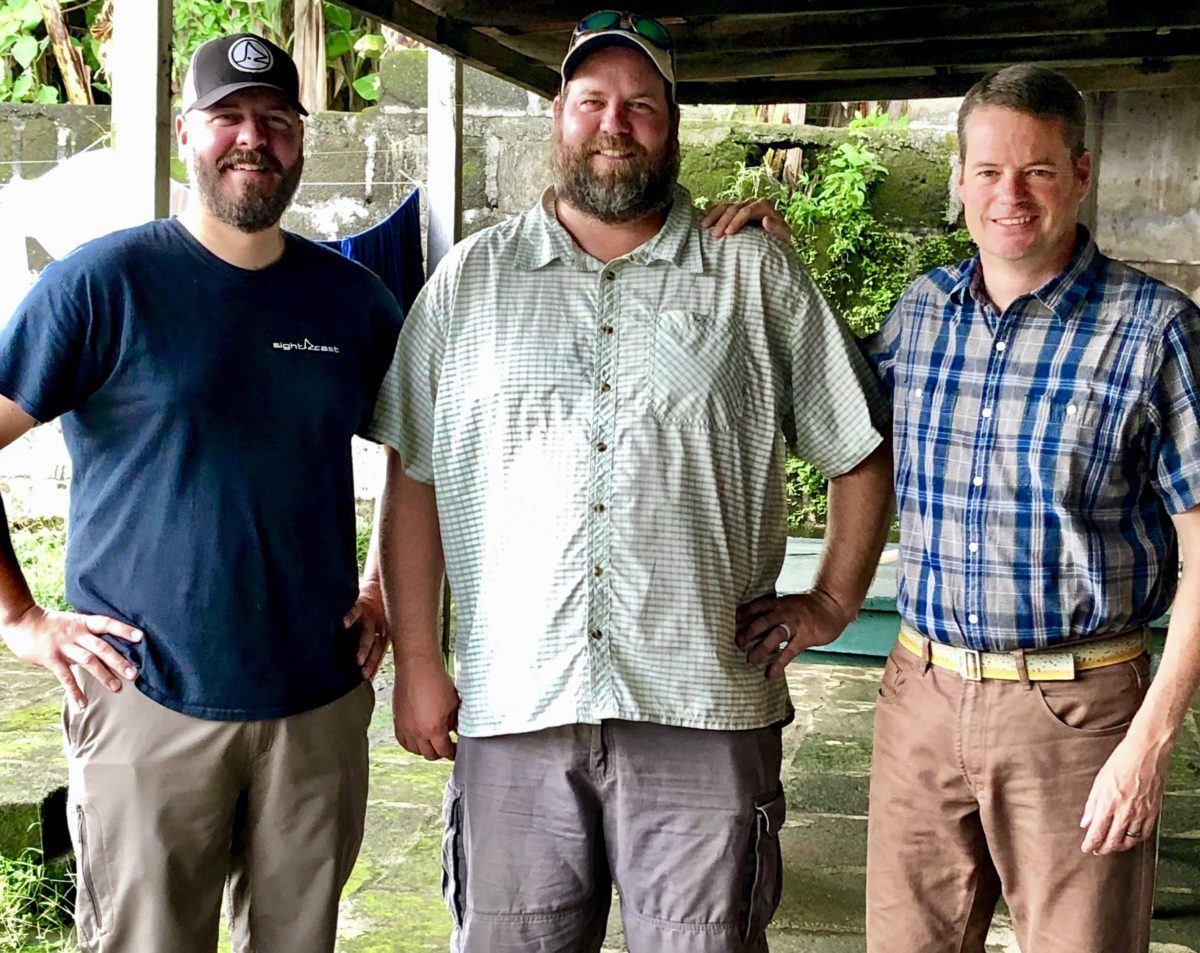 They were on board and I talked them through the process, how to get materials down there, and what it's like to work with the ladies. We booked out flights a month or so ago, and on September 23rd we flew from Houston to Managua, Nicaragua. My friend Enoc met us at the airport and drove us to Diriamba, about an hour and a half long trip. It's the rainy season in down there, and so Managua is hot and humid, but the drive is pretty because everything is green.
We arrived in Diriamba that afternoon and stuck our heads in the factory. The ladies were working hard, cranking out a batch of Permital Buggs in the Natural (tan) color. It's a great feeling to see them all lined up like this: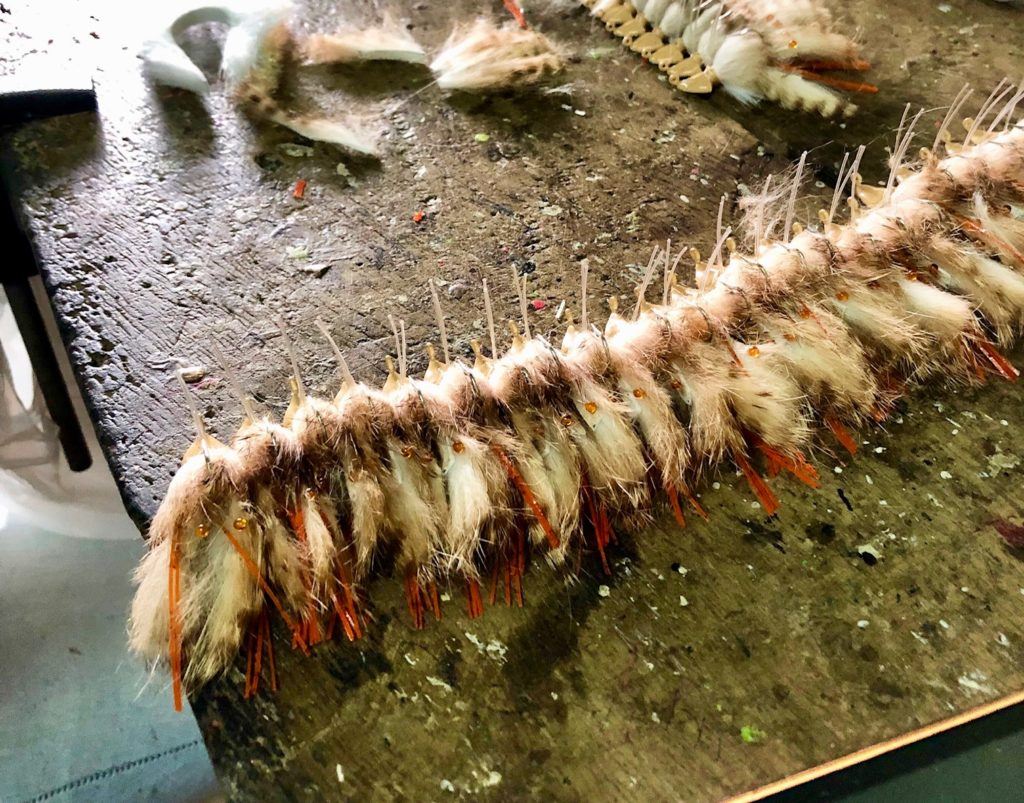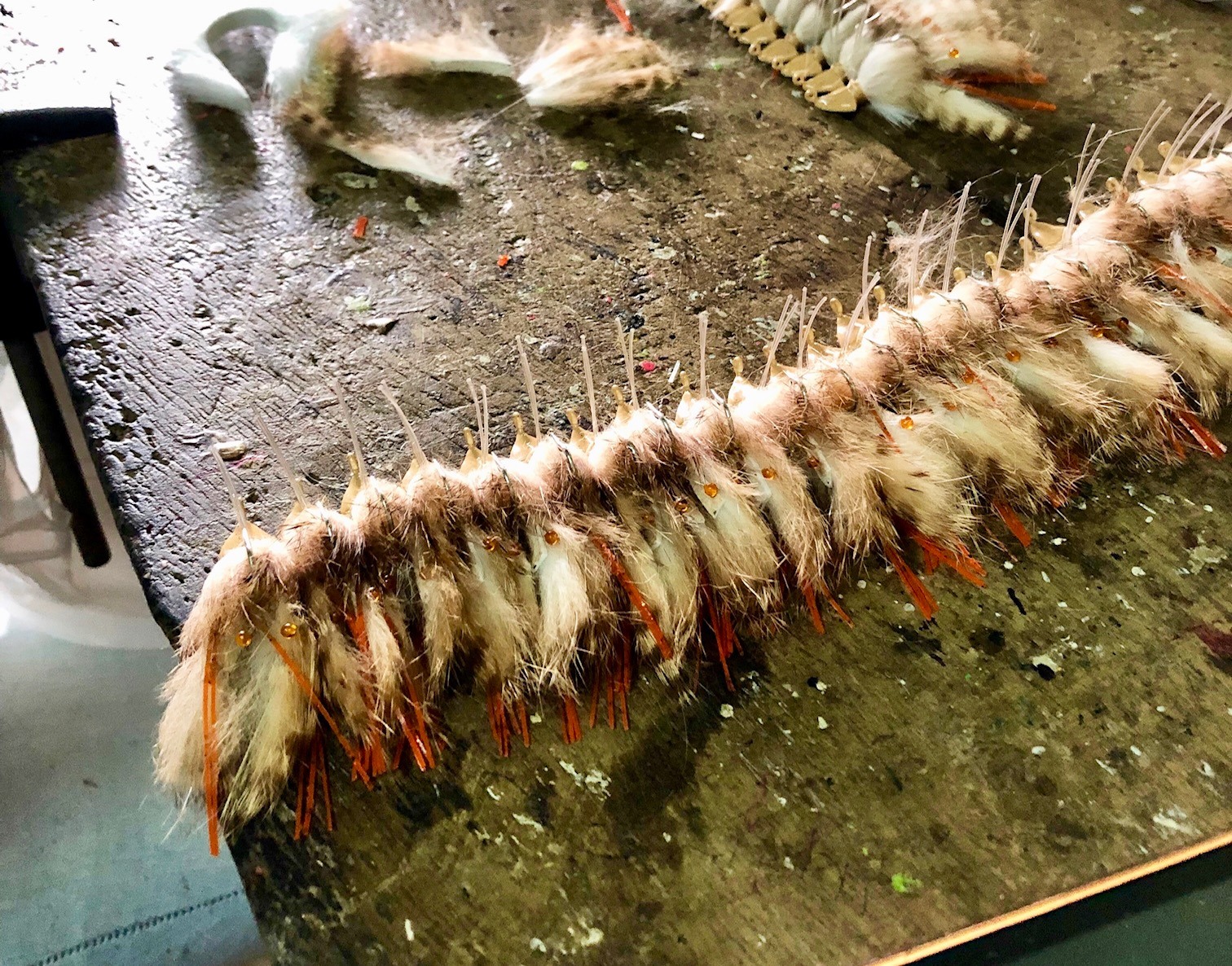 While visiting Diriamba, I always stay in the Hotel Mi Bohio. It's really nice and the people are very friendly. The Mi Bohio restaurant is connected with the Hotel, and that's where we have dinner every night. That night I had my favorite dinner, the Filete Jalapeno. It's a thin cut steak, grilled and covered with a cream sauce with onions and jalapenos. It's served with a side of rice and friend plantains. Also a small salad, but who needs a small salad?
Anyway, back to the good stuff. You're going to want to dump that rice right on top of the steak, and mix it up with the sauce as you cut up the steak and eat it all up! Those fried plantains are good as long as you salt them aggressively. They don't have a lot of taste otherwise, kind of like a potato, and who wants to eat a plain potato? Here's a picture of the meal from a previous trip: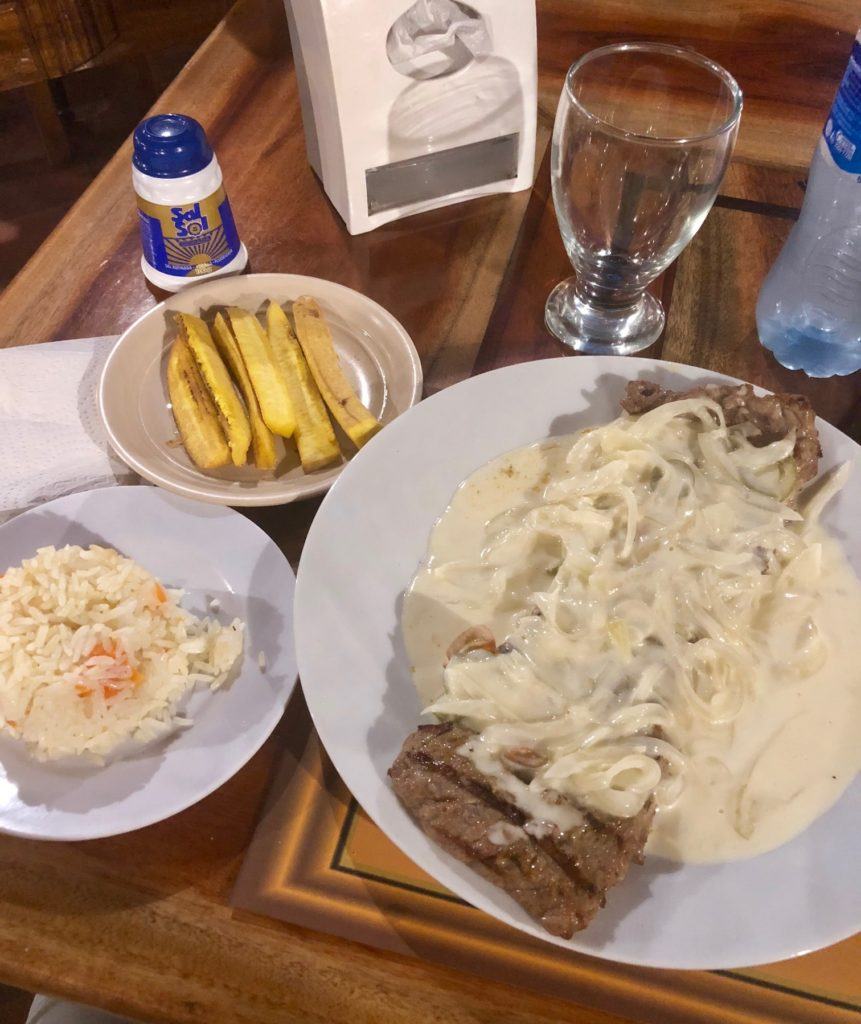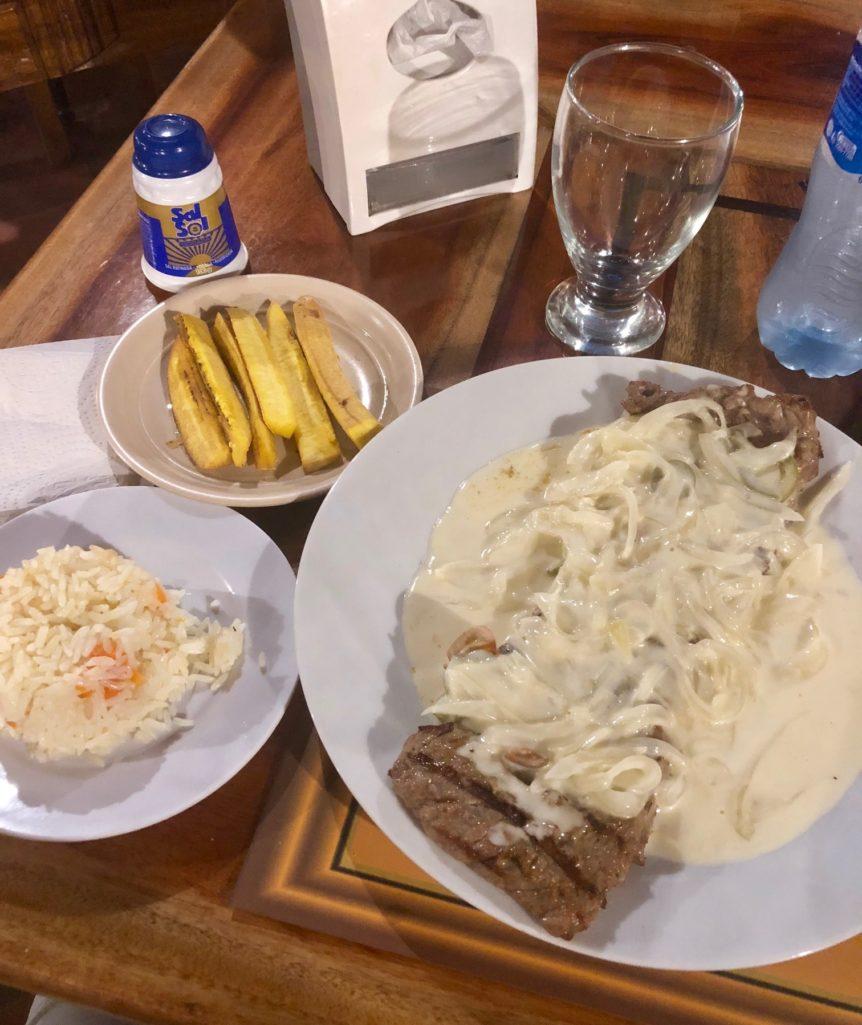 The next morning it was down to business. I went first. I wanted Steven and Alan to see how I worked with Delia, the head tyer. She's been there the whole time I've been coming down, almost 10 years. She is very talented, and she knows how I design the Buggs and is more than capable of tying anything I ask her to. I brought a booklet with written instructions and pictures, and I tied a Hydra Bugg for her.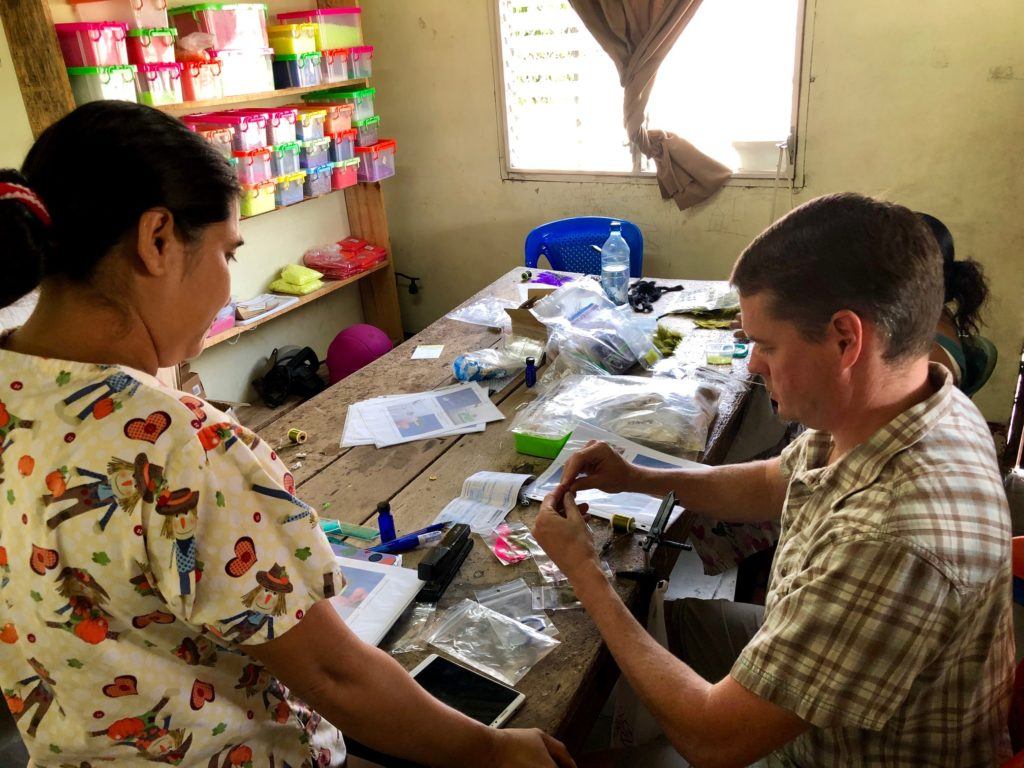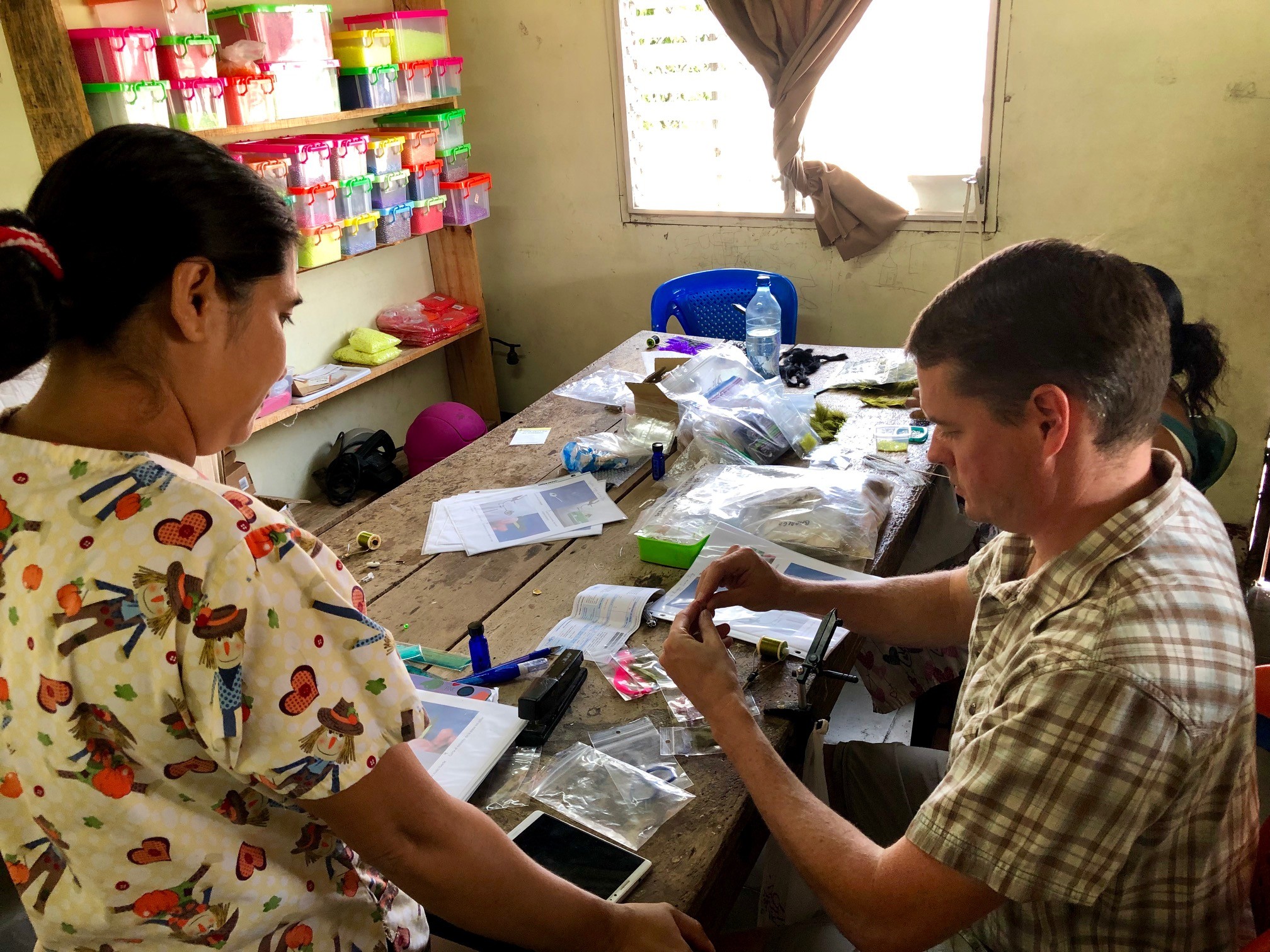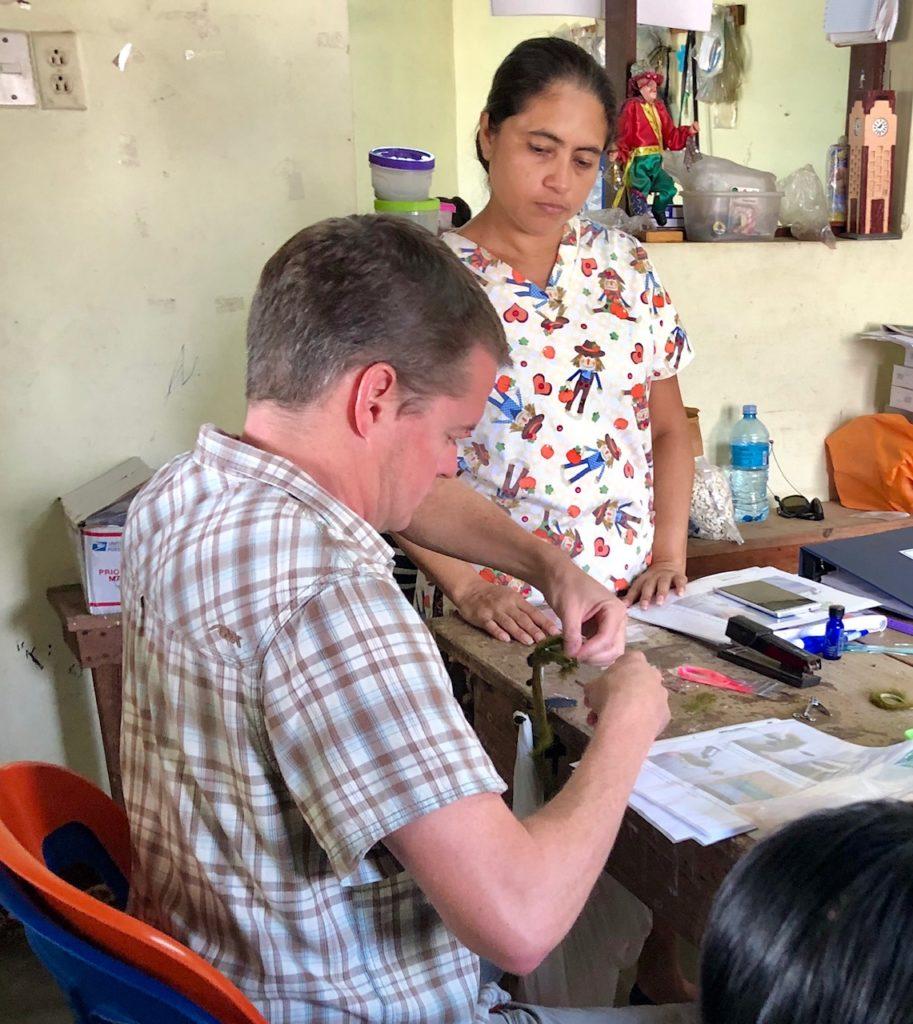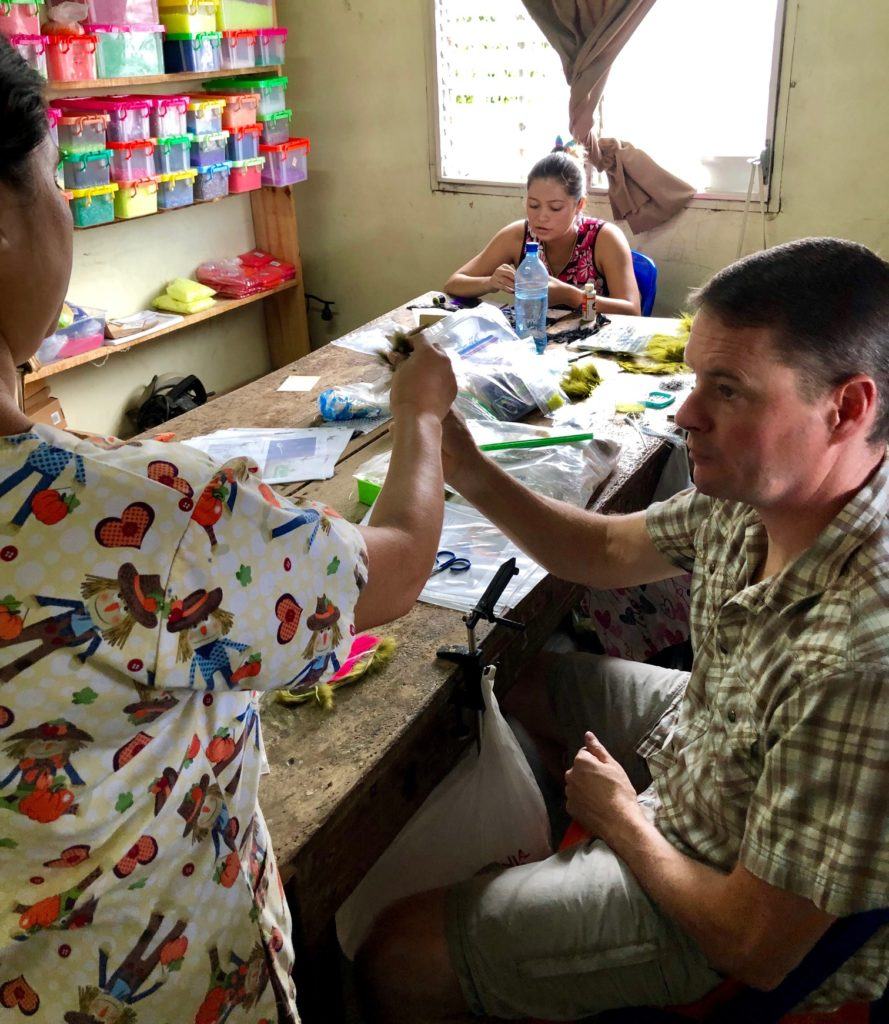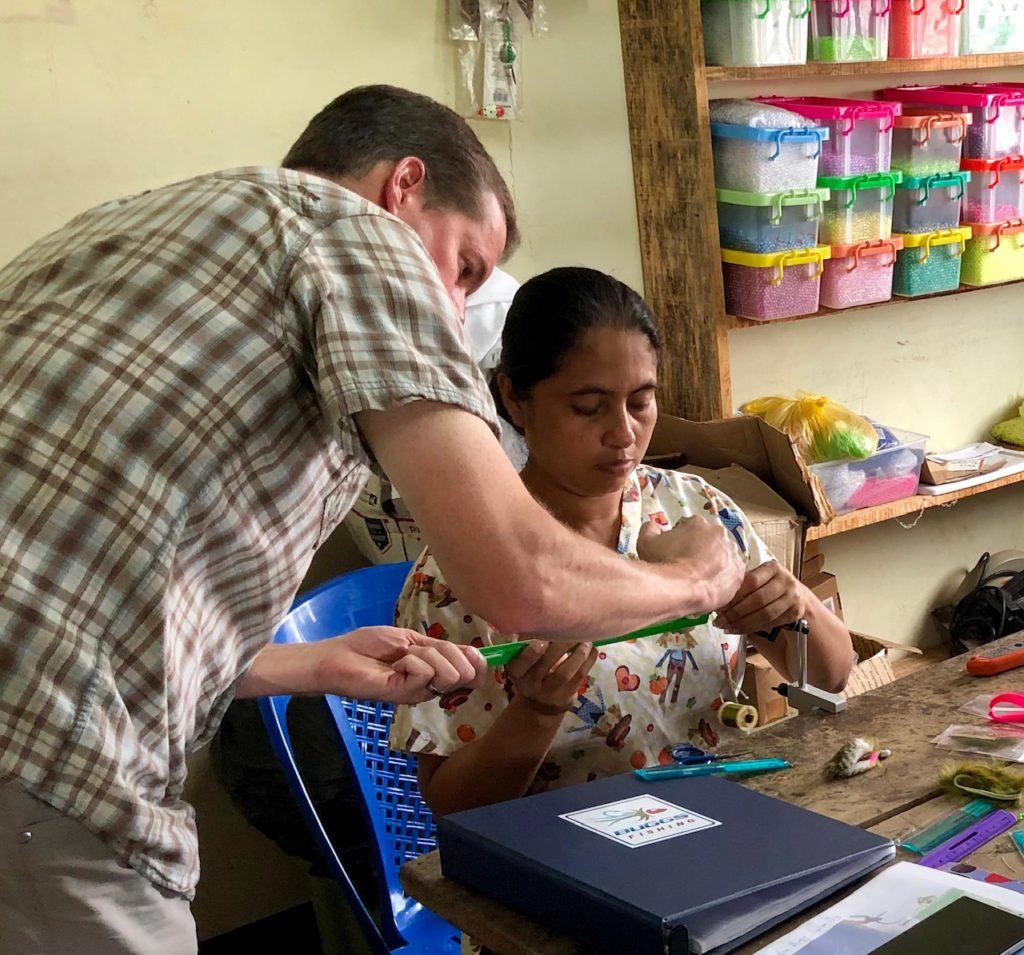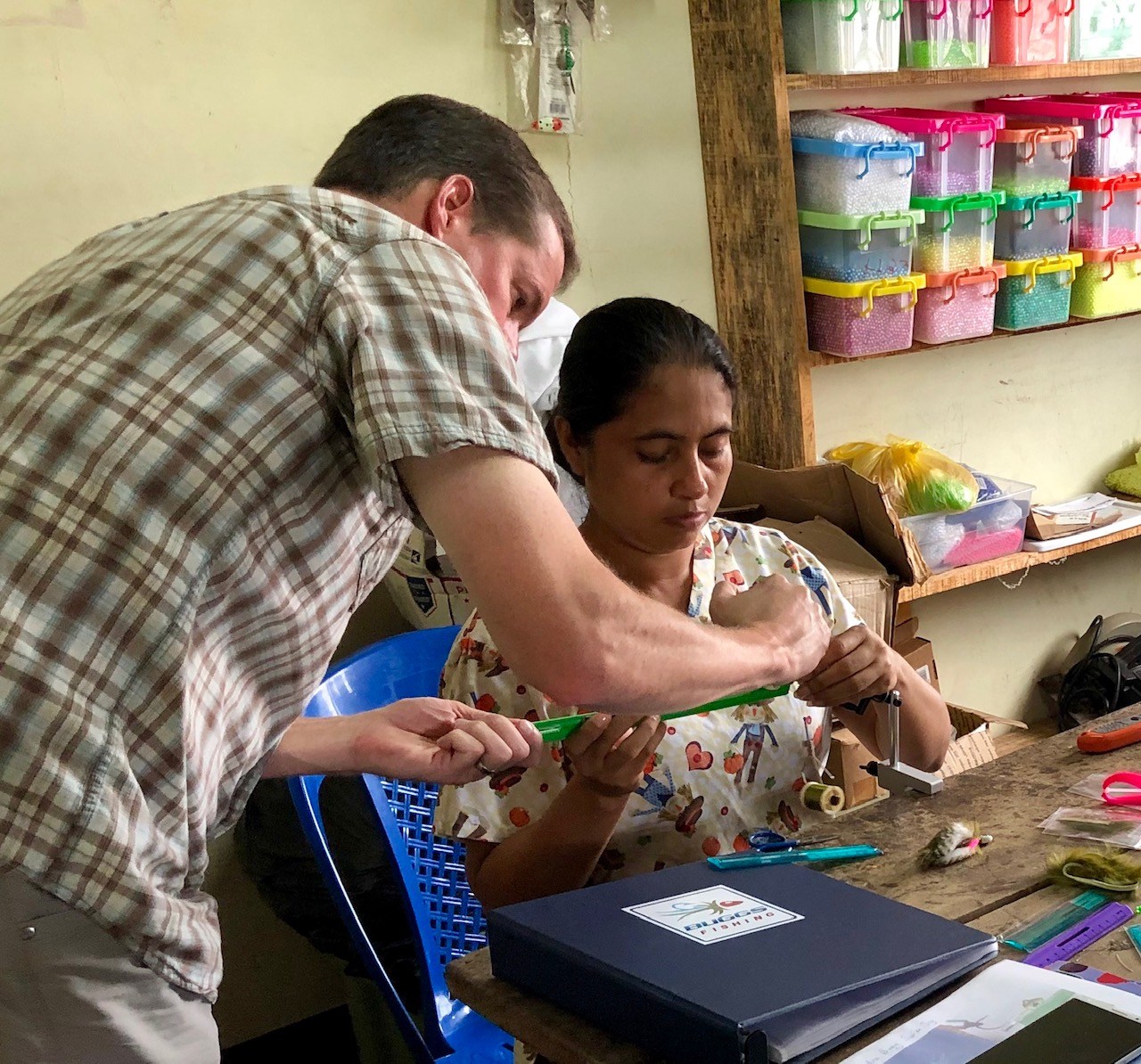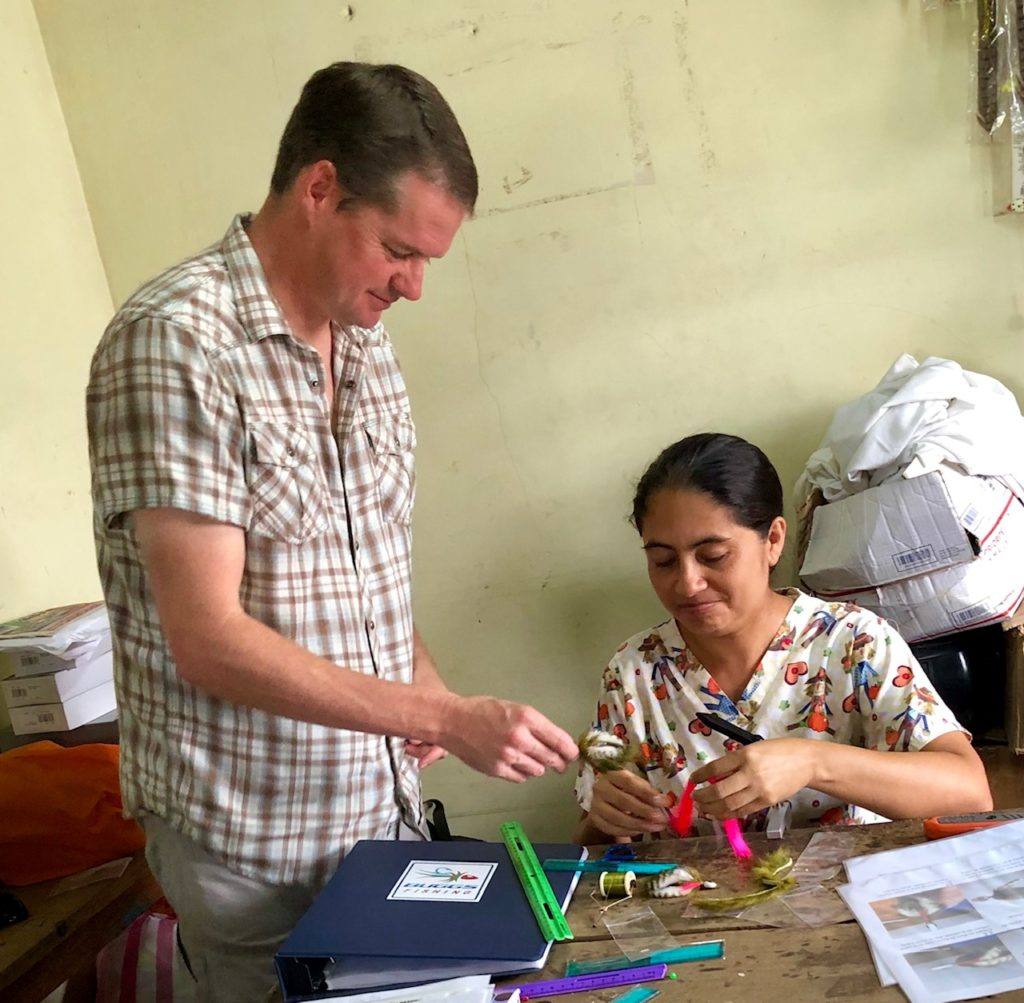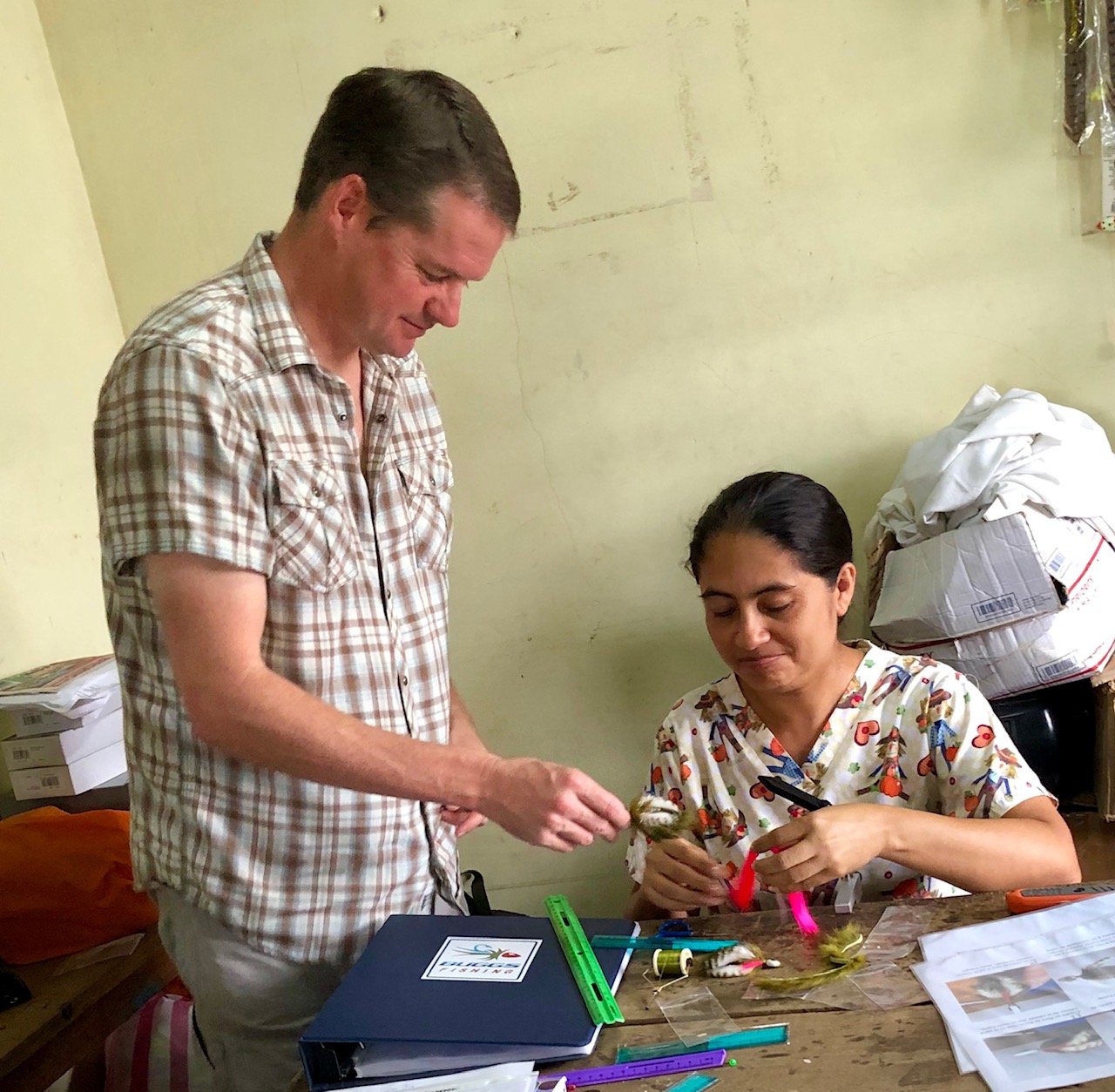 She had no trouble with the pattern, and tied up a perfect imitation as soon as I was done. The materials for these Buggs won't be down there until October, so I left the instruction booklets and am confident they can handle the job.
Steven and Alan were next, and they had put just as much time into the preparations as I had (if not more). As I watched them teach Delia how to tie their four patterns, I took a good look at their stuff. It's very impressive! The first thing I look at is the profile of a fly or jig. I have a pretty good eye for it, and the Sight Cast flies are dialed in. When you get the profile correct, unless you screw up the colors really bad or make a bad cast, you're going to get a bite.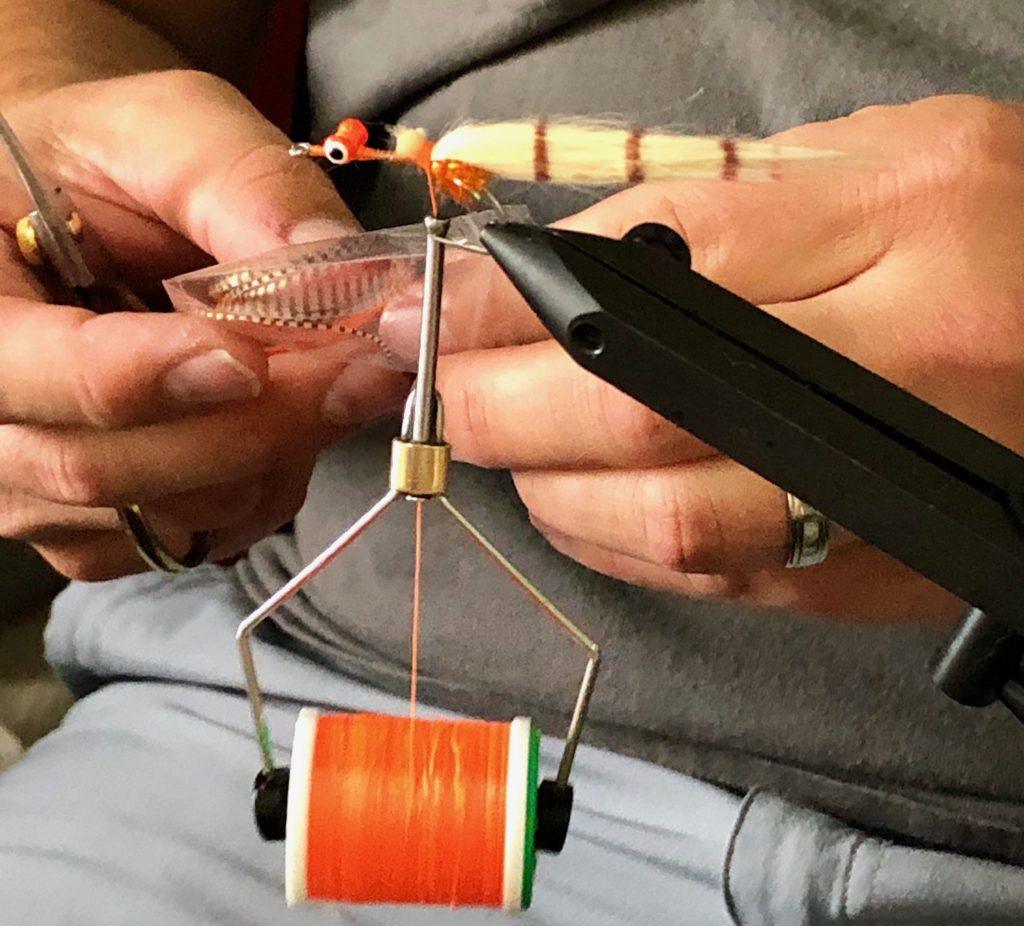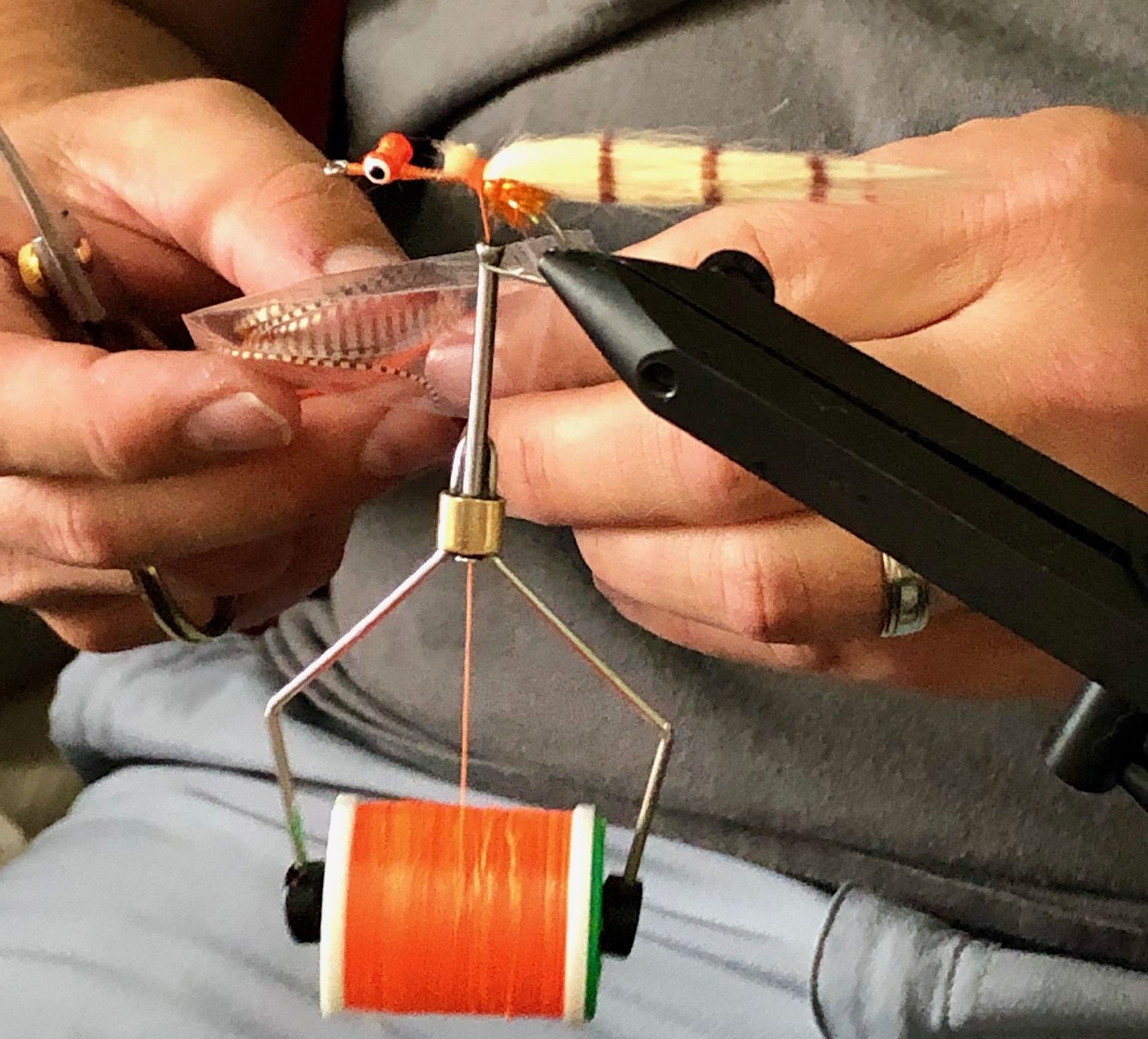 What Steven and Alan have done, though, is what sets them apart and has them primed for success. They've done a great job adding some artistic touches that are visually appealing and appealing to the fish. You pick up the fly and at the same time you know it will work and you think, "Wow, this looks awesome AND I know the fish will eat it!" They take great care in the details and communicated them effectively with Delia. They worked with her the rest of the day and the next morning, making sure everything was understood.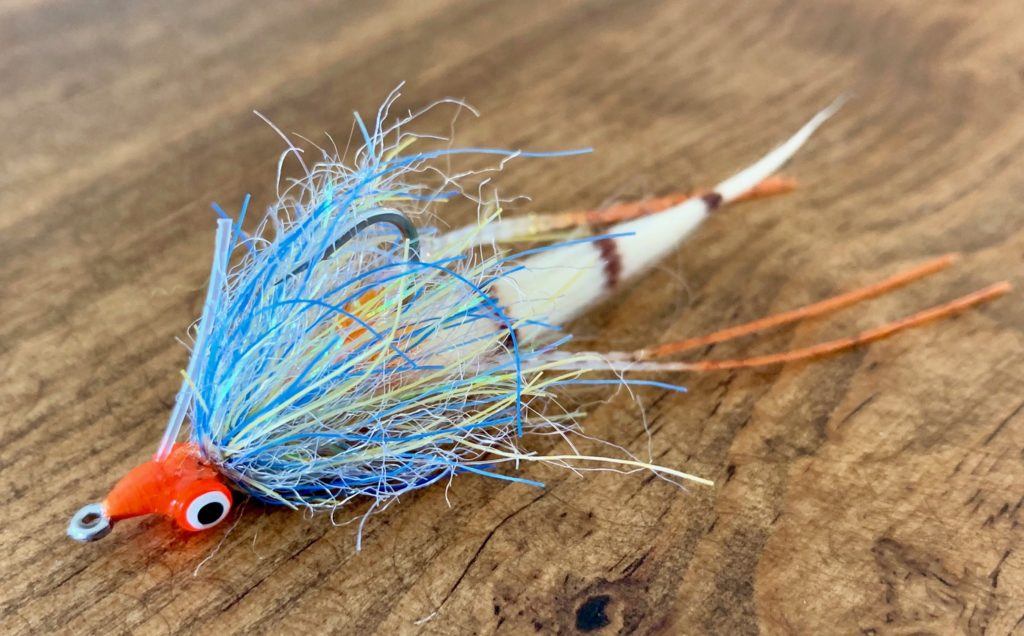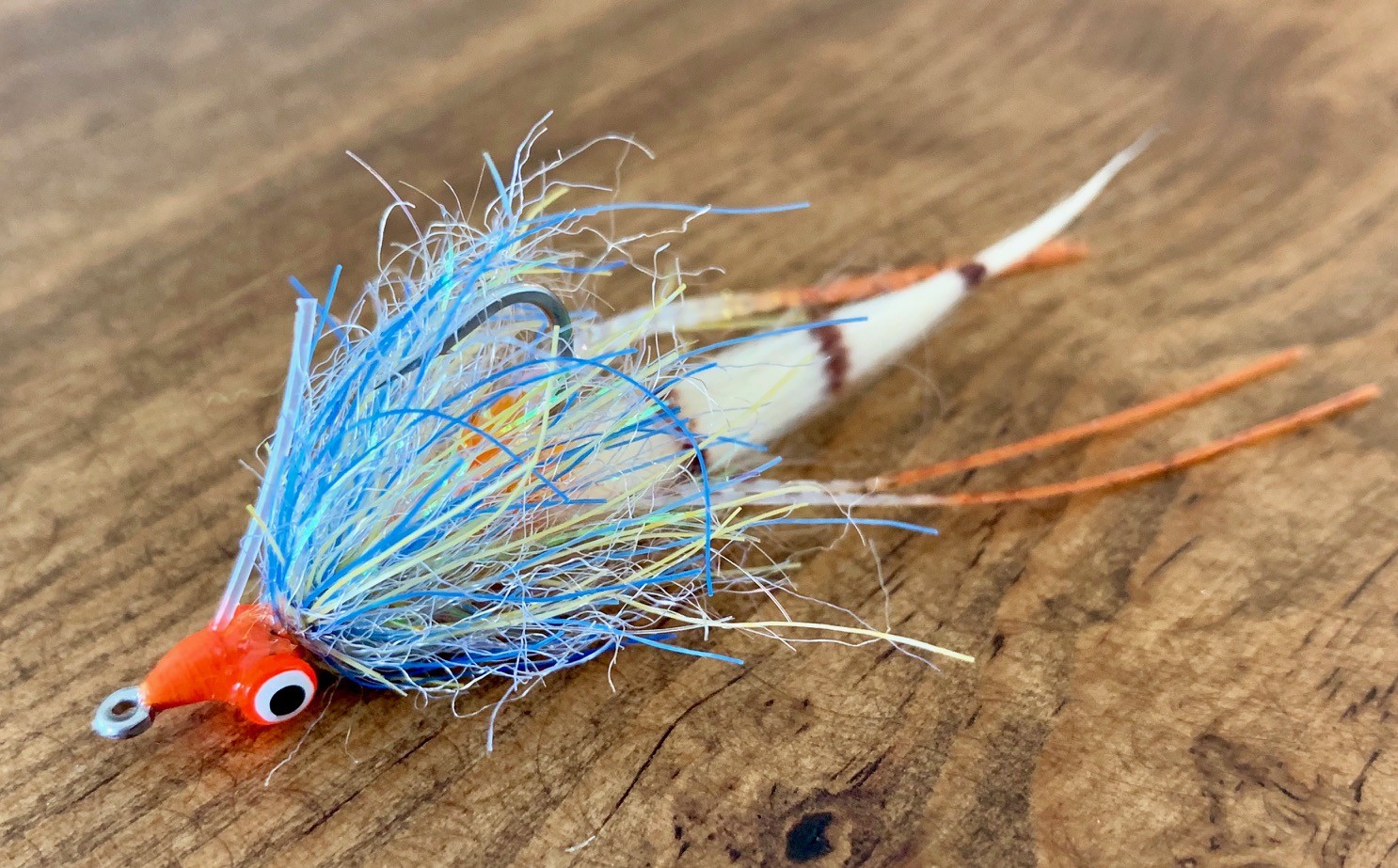 The rest of the day Wednesday I inventoried my materials. That's another really important thing I do when I visit my factory. Here's a quick explanation of my production process. When I design a new pattern, I document the materials necessary to complete it. I have a spreadsheet. I plug in the number of Buggs I'm ordering and it spits out a rough estimate of the materials necessary to complete the order. Call it a take-off. They use this term in construction. The take-off for your house, is a list of all the materials necessary to complete it.
Some of the materials are easy to measure. Rabbit strips come to mind. For example, on the Curl-Tail Jig the top piece of rabbit is 1.25" and the sides are 1" each. So it's pretty easy to order the rabbit strips. It gets a little more complicated when you're talking about materials like thread. I have no interest in measuring the amount of thread for a Bugg. It would take a long time, be a pain in the butt, and besides people don't always use the same amount of thread. So I guess. I try to overestimate the necessary materials. It really stinks for them to run out of materials and not be able to complete the order.
When I go to the factory, I take an inventory of the materials, and it gives me a clue on whether to send down more or less of something. This time? I learned that I (still) send down too much Krystal Flash, I have plenty of extra thread, and I'm not sending enough Krystal Flash Chenille. I write all this down in a notebook so I'll remember and so I can make the necessary adjustments.
By the end of the day Wednesday, just about all of the work was done. We weren't leaving until Friday, so I talked with Steven and Alan about getting Enoc to drive us to the coast to look around. Diriamba is sits inland about 30 minutes from the Pacific Coast of Nicaragua. La Boquita and Casares are the closest towns heading Southwest on Highway 18. That evening when we got back to the hotel, the lady at the front desk said that the owner of the hotel wanted to talk with me that evening over the phone. His name is Roberto, and I had met him on my previous trip. (I'll tell that story and a few others in another post).
I was eager to talk with him because he's a really good guy, and I learned I'd be talking with his son, also named Roberto. I spoke with his son Wednesday evening, and he told me that his father wanted us to look at a property in Casares and would drive us down there the next day. The property sits between the coast and the Rio Casares. We were excited to check it out, and we drove down there at 10 o'clock Thursday morning.
I mentioned earlier that this is the wet season in Nicaragua. We got rain in various amounts every day we were there, and it was overcast and windy on Thursday. But the drive was pretty and we were looking forward to seeing the coastline, the river, and the property. We drove to La Boquita and hung a left and made the short trip to Casares. Casares is a small fishing village, and we went to the beach and walked around. The sea was kind of rough, and there was rain in the distance, but we saw a panga boat coming in and one going out.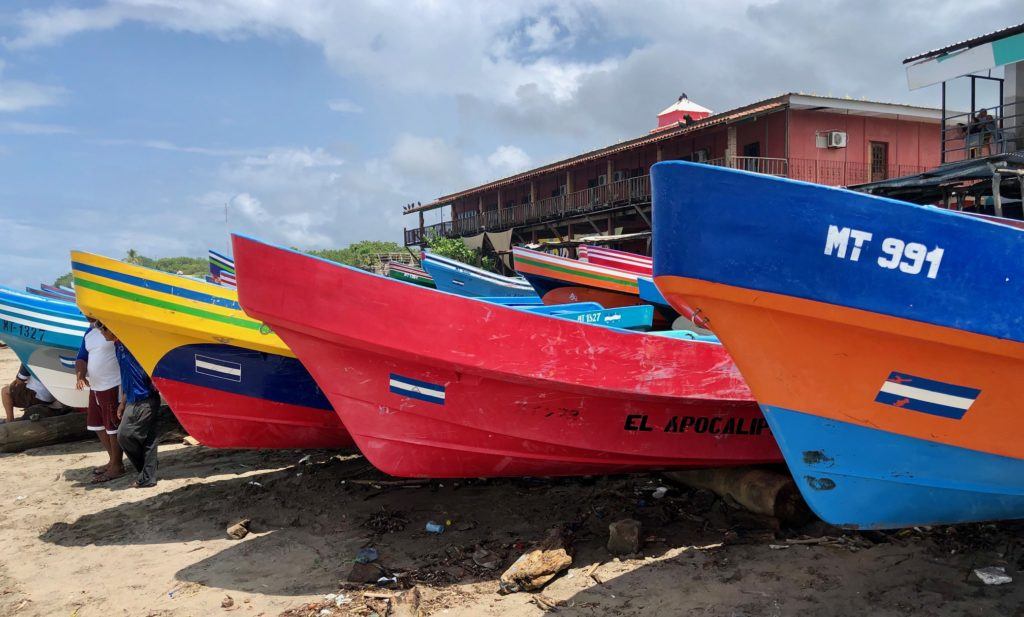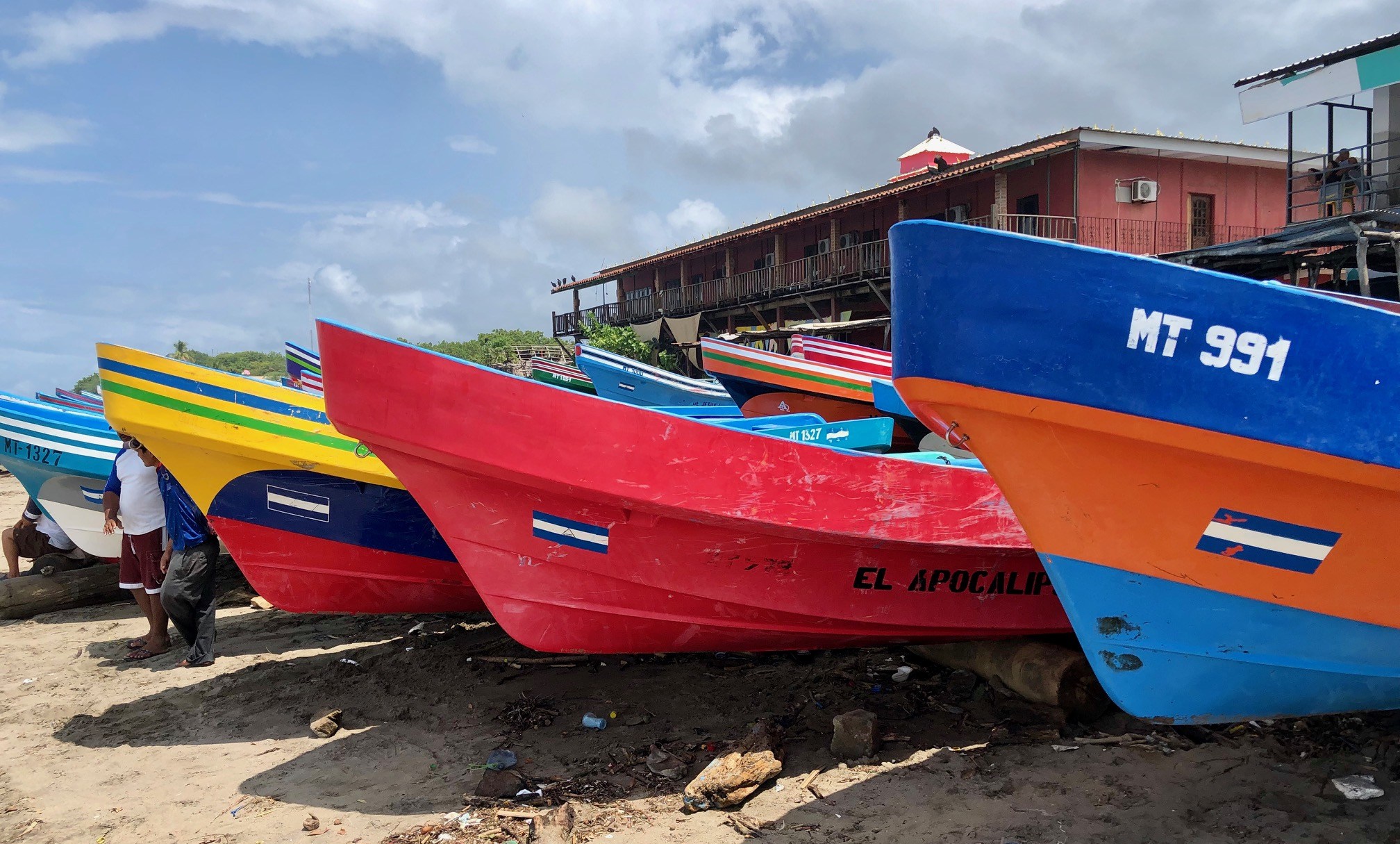 Pangas are popular, inexpensive, and very sea-worthy fishing boats. They're also painted pretty colors, and lined up they make a cool picture. The fishermen we saw in Casares put in a lot of work to launch and beach these boats, and they catch lots of different fish to sell in the local market. After the stop at the beach, we drove to the property to look around. Like most private property I've seen in Nicaragua, there's a sturdy fence at the entrance. When we walked in we saw a nice courtyard and residence that led into other buildings and eventually to the ocean.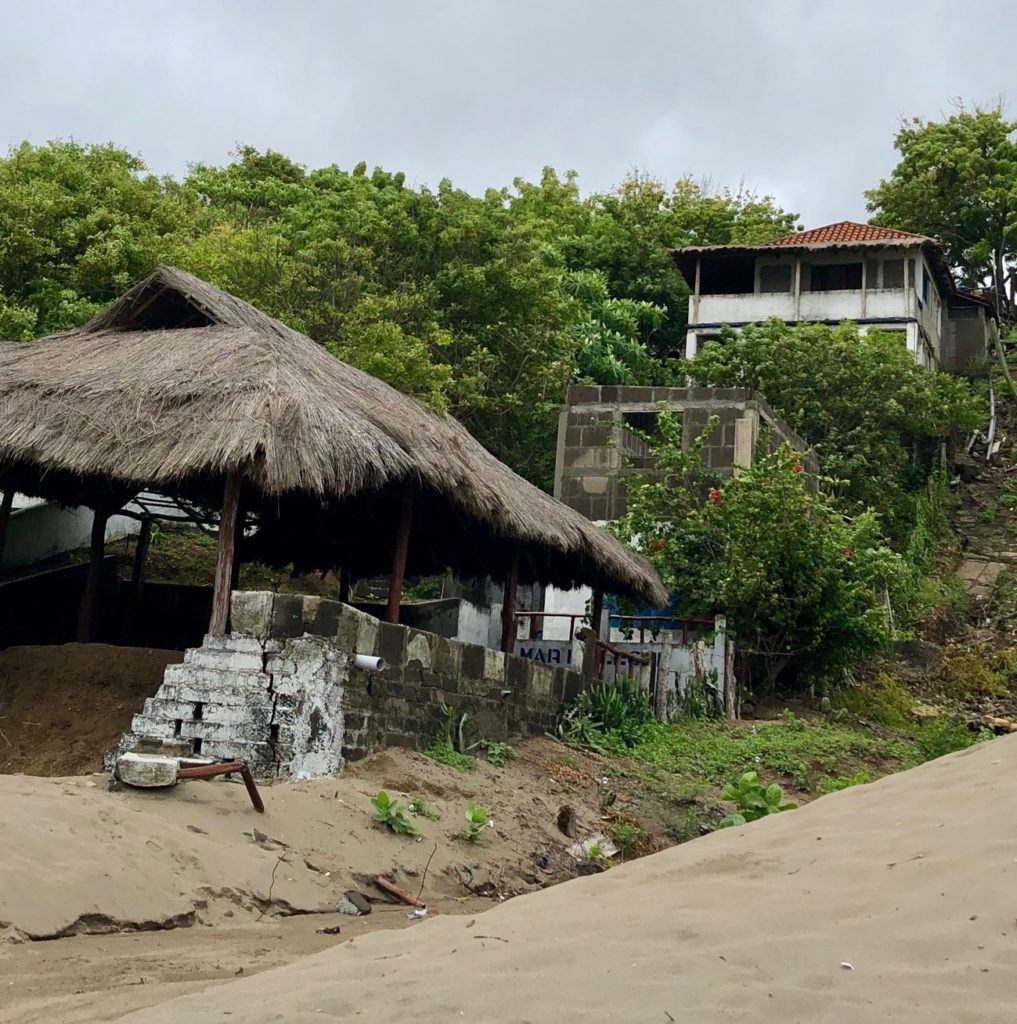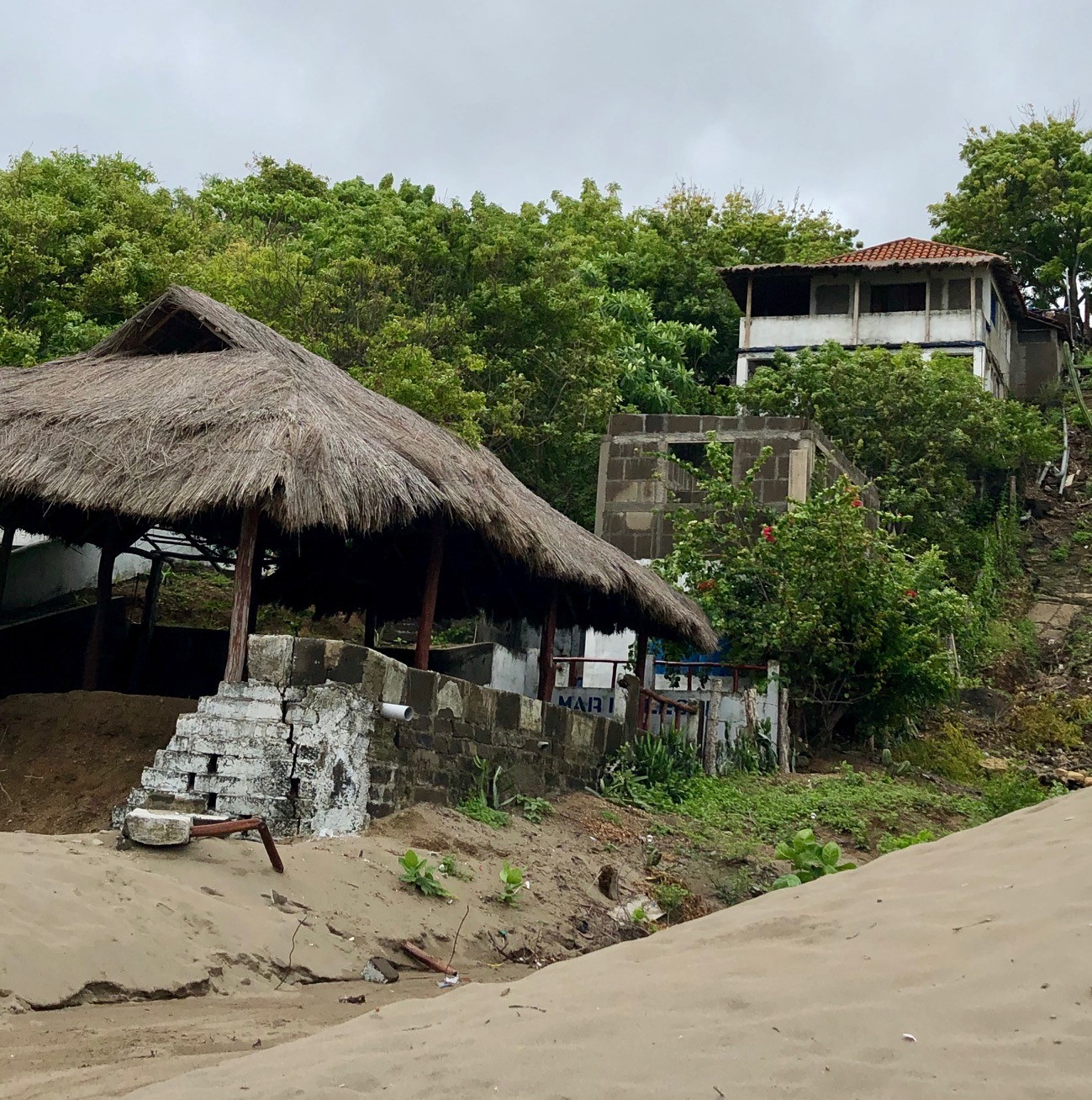 We were surprised and impressed with the distance to the ocean, mostly down the steep slope to the beach. And the property mirrored this slope, with steps leading to several buildings for residences and a future restaurant. It just kept going, and you could tell we were getting closer to the beach. The property is called Mar de Leche, which is Spanish for Beach of Milk. It's named this because of the milk-white spray of the ocean when waves hit the natural breakwater at the beach.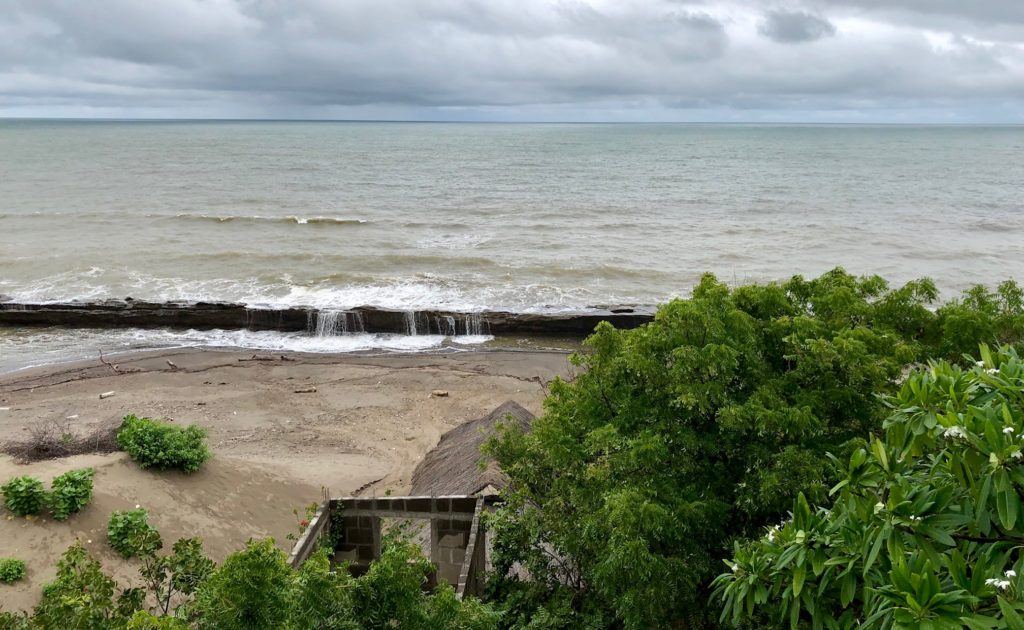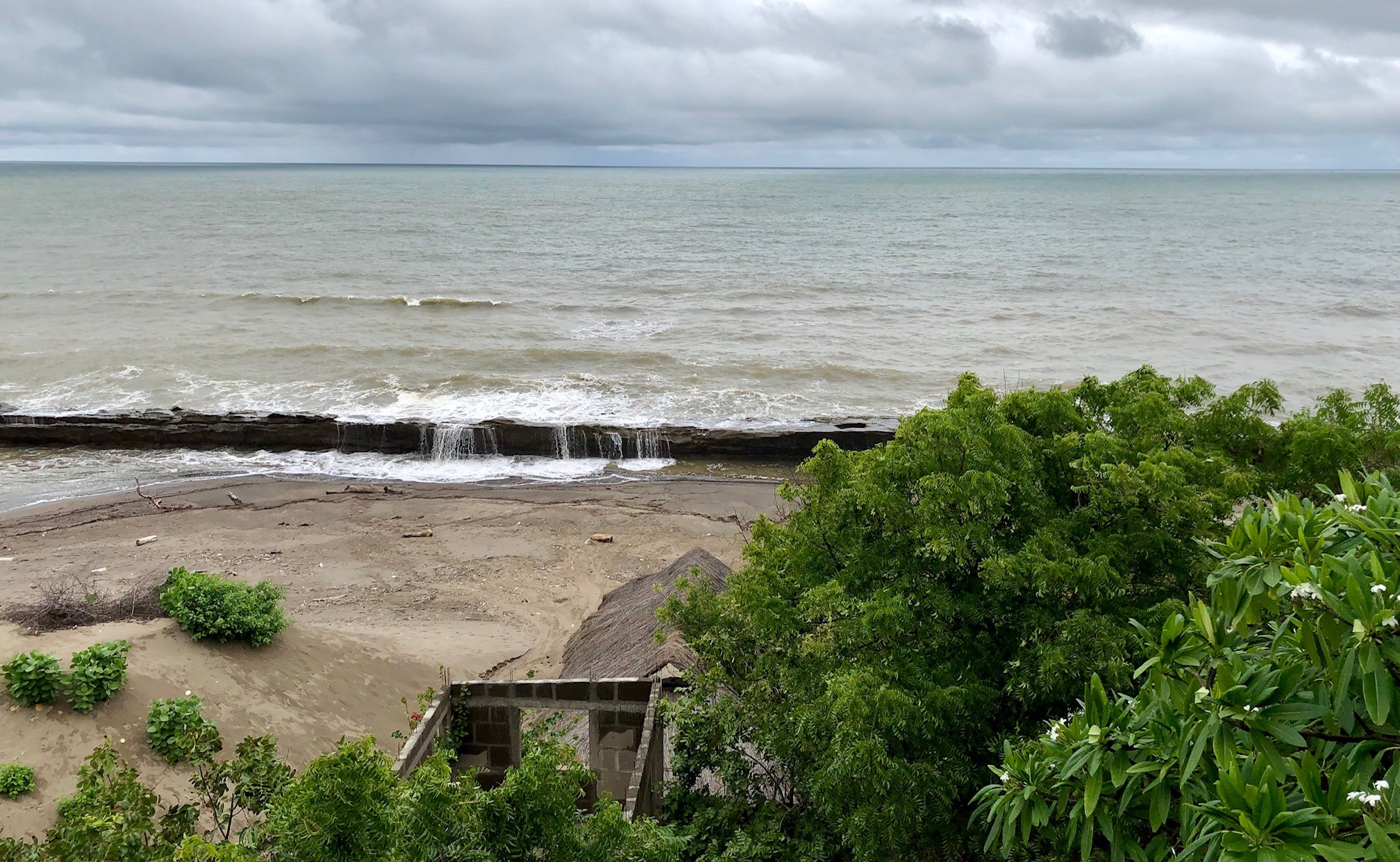 We hit the beach and turned left, walking along towards the Rio Casares river mouth. As we got closer we saw some fishermen on the rocks, braving the wind and the waves to fish near the river mouth. This time of the year the river is muddy, similar to the Brazos here in Texas when it's been raining. This muddy water spills into the ocean, and it reminds me of muddy surf. You look out and see brown water that eventually turns green further off the beach.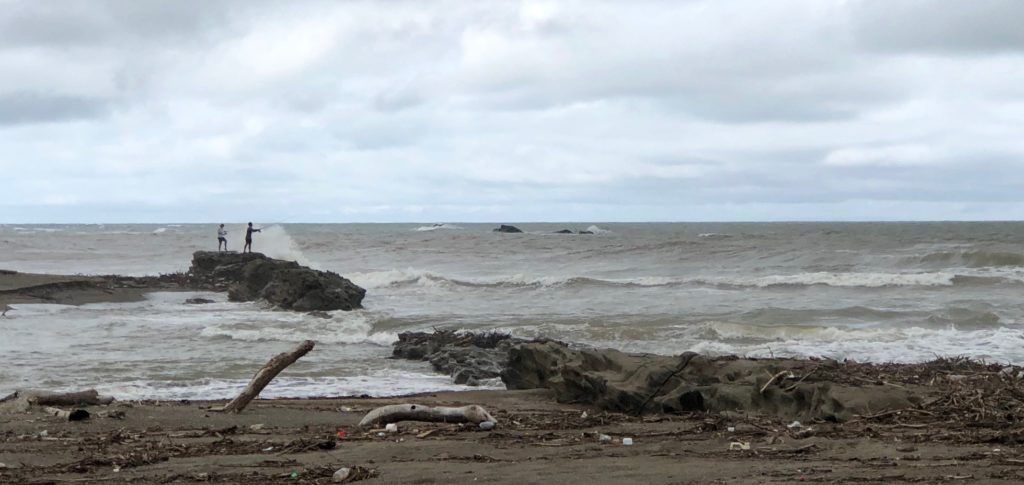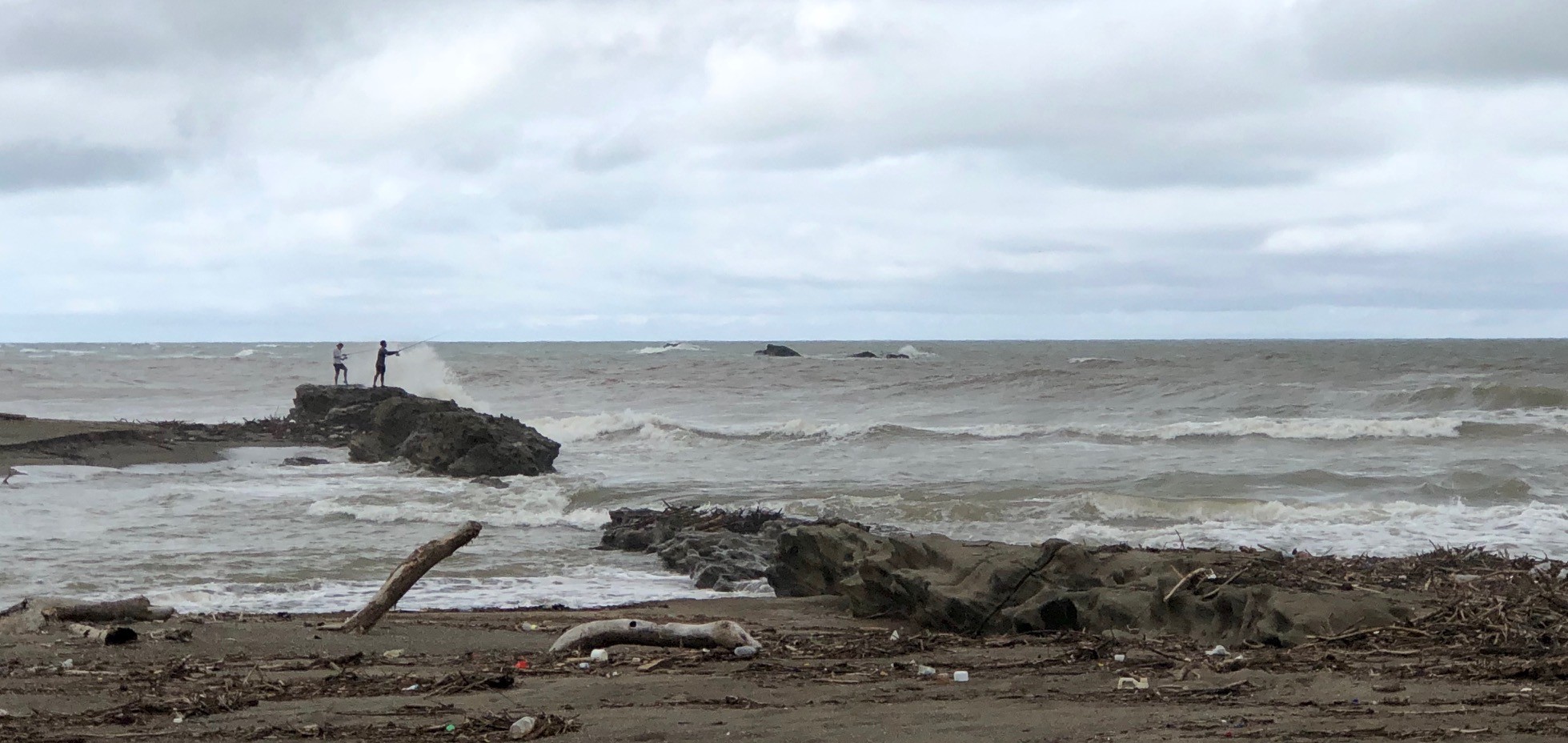 We walked along the edge of the river a hundred yards or so, and it was about 150′ to 200′ feet wide. In the tall trees across the river were a bunch of pelicans. In the distance past the trees I think I heard monkeys. I definitely kept my eyes open for bait or other signs of life in the river but didn't see anything. I asked a young man who went with us about the fish you'd find in the river and what it looked like in the dry season.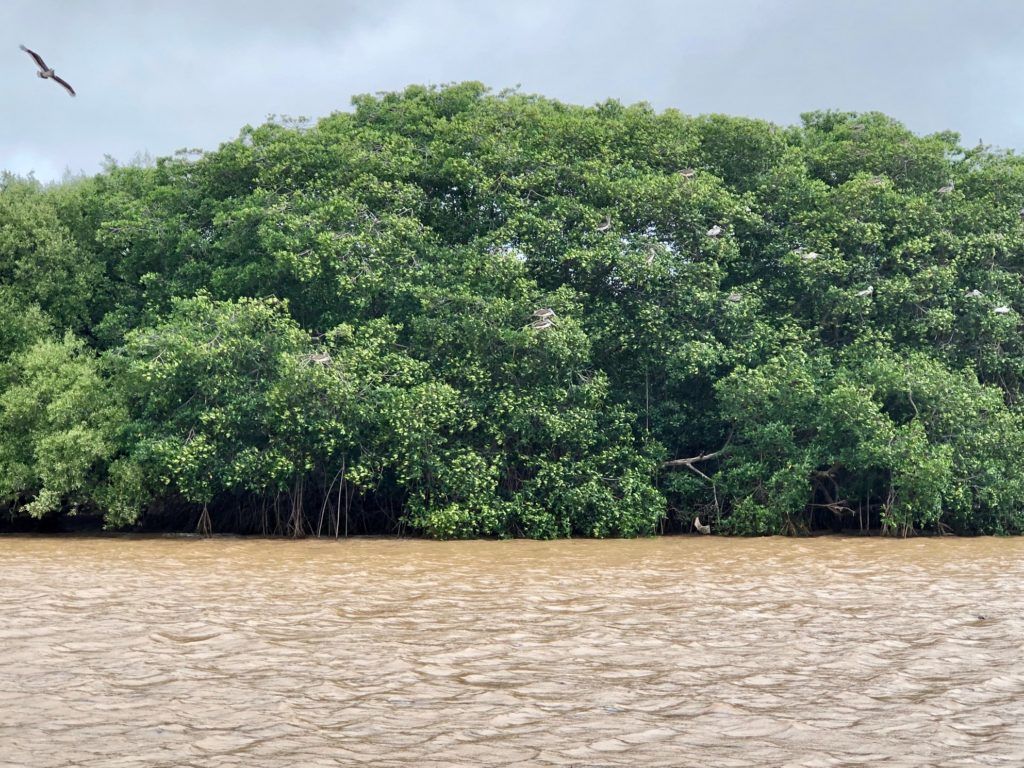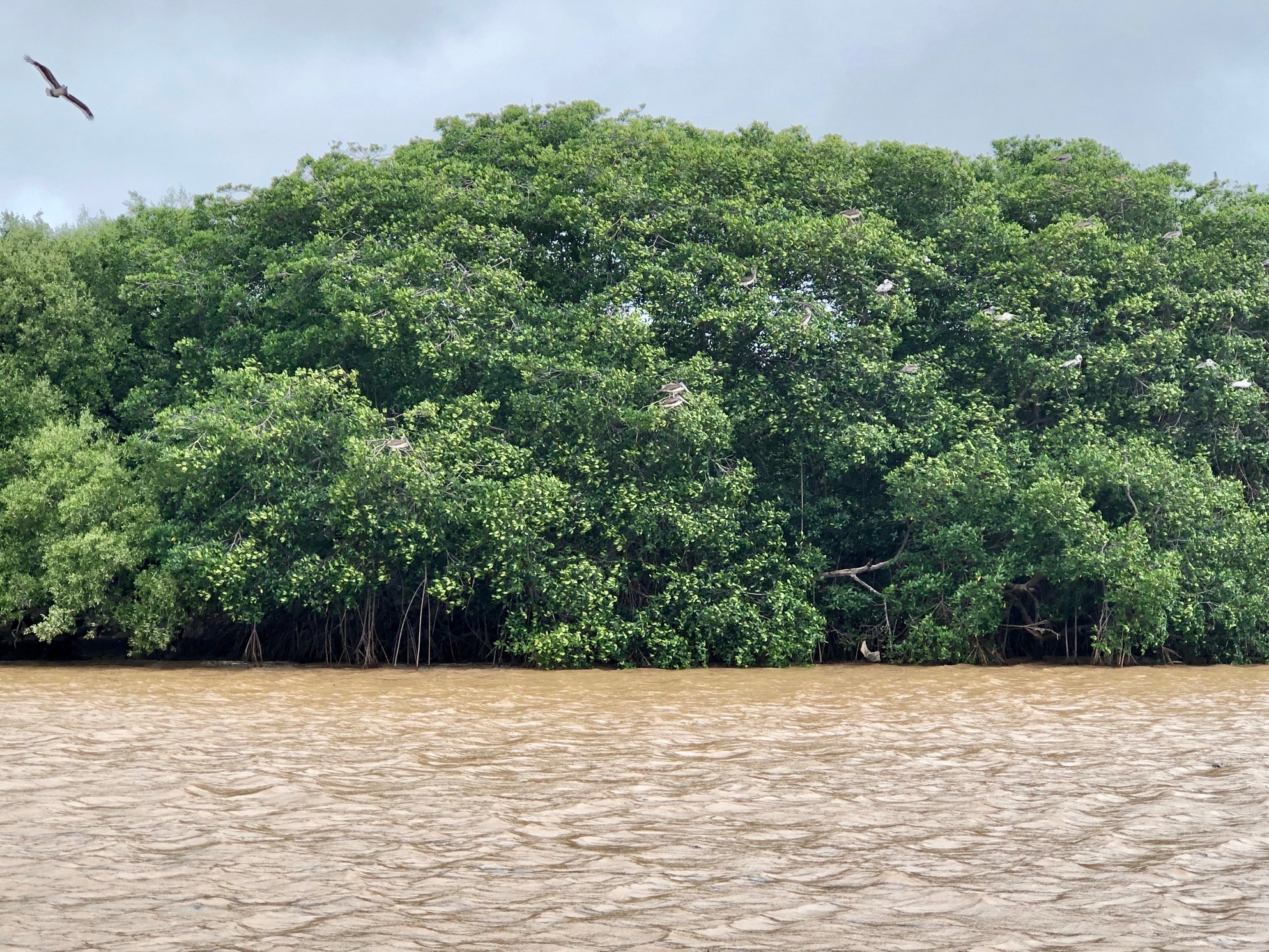 He said the river was green in the dry season and that we'd find snook, snapper, jacks, and other fish in the river. He said the bigger fish were off the beach, and included all the species in the river plus dorado, barracuda, and a couple other species. He didn't mention roosterfish, although I know they're found along the Nicaraguan coast.
There's not a good place to build a marina right here, and a natural sand bar and rocks would make it difficult to get a boat into the river. But I learned that people put kayaks in the river to fish. As I looked at the mangroves along the far bank I could just picture big snook hiding in there, eager to crush a Hydra Bugg if I made a good cast…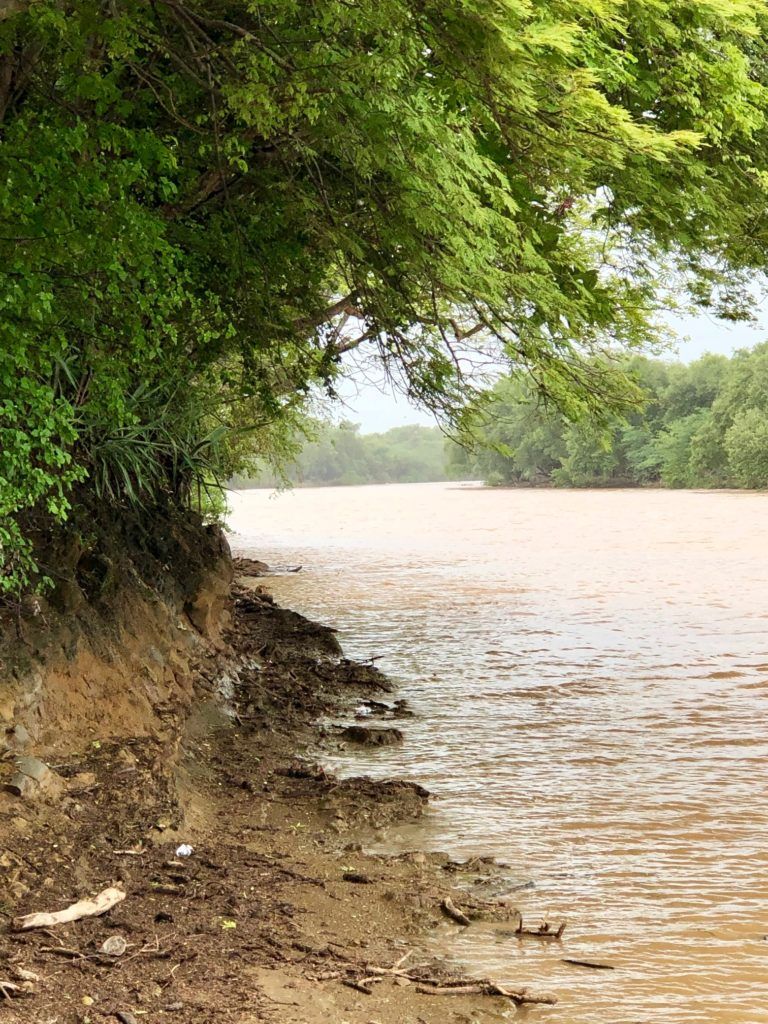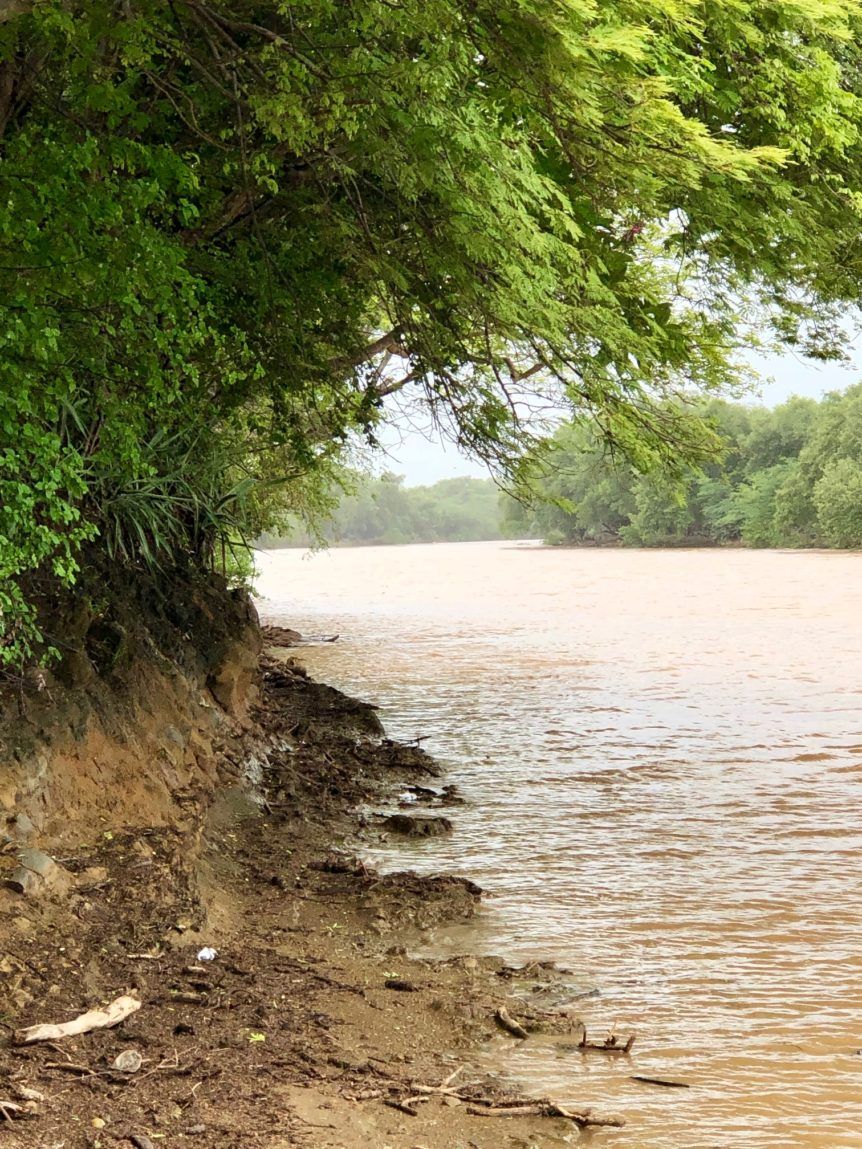 After that we walked back to the truck and made the trip back to Diriamba. That night the brothers Kulcak made good on their promise to get their picture taken at the restaurant (posted with their permission). We talked business, life, and our hopes for the future. I knew them a little bit going into the trip, through short conversations and the positive reputation they had in the fishing community. But traveling to a foreign country with some guys will really help you get to know them! I learned they really are good guys. They were lots of fun to hang out with, handled themselves with integrity, and I'm really hopeful that we can help them grow their business.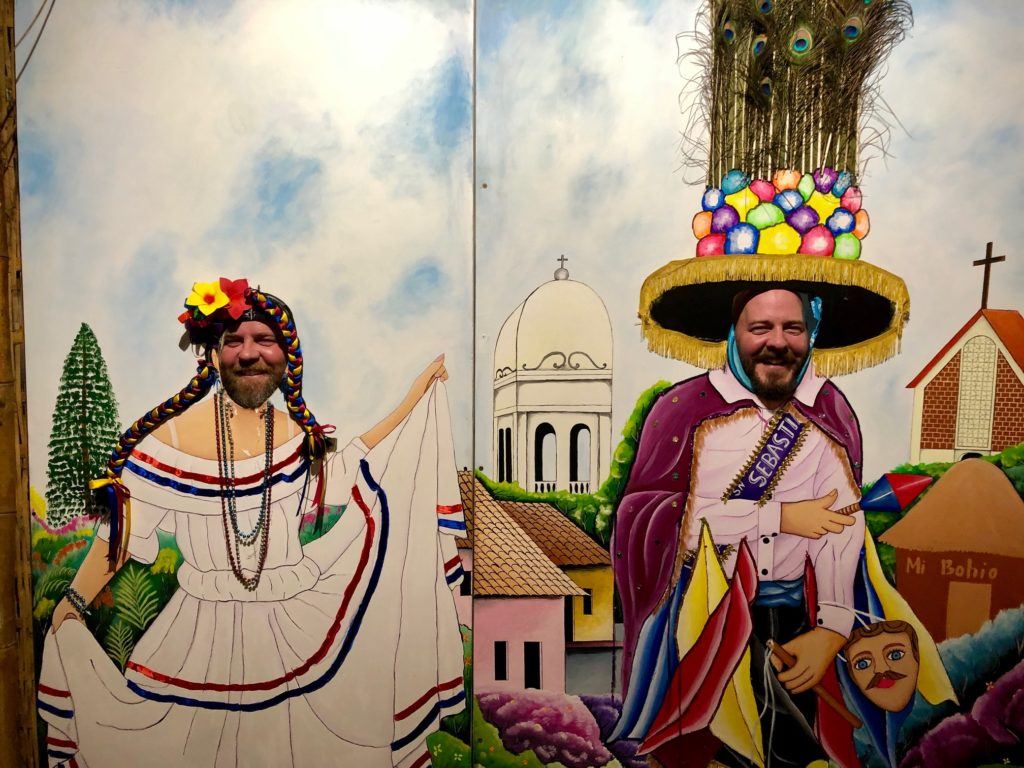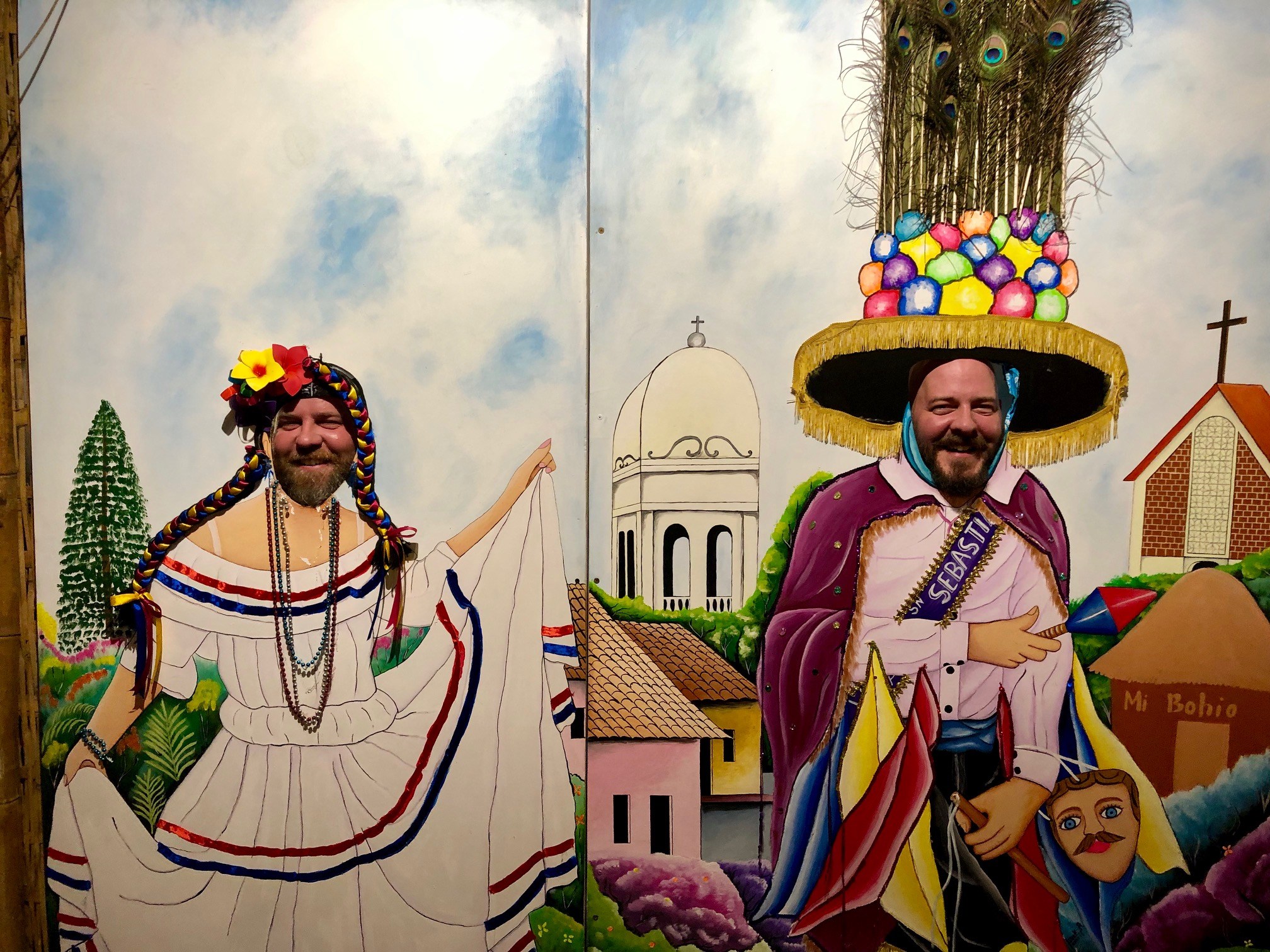 Random Story from the trip: Roger the Crazy Viking from Norway. Roger was a friendly older man staying in the hotel. We found him drinking rum and smoking cigarettes outside his room almost every night when we returned from dinner. Each time we did, we stopped to talk with him. The man had stories! Miracle cures, flashing shrimp, international relations, and living life to the fullest were a few of the topics.
I don't know if I've ever met someone like him. It reminded me of reading the Plugger book by Rudy Grigar. Rudy was one of the pioneers of saltwater fishing with lures on the Texas coast. Reading that book, my impression was that if only half of it were true, the man saw some incredible sights, did some amazing things, and had a really interesting life.
That's the same thing I'll say about Roger. If only half of his stories are true, he might be the most interesting man in the world…
I'll leave you with the team picture of Steven, Alan, and me along with the hard working ladies who tie all of my Buggs. I appreciate their help, and I wouldn't be where I am without them.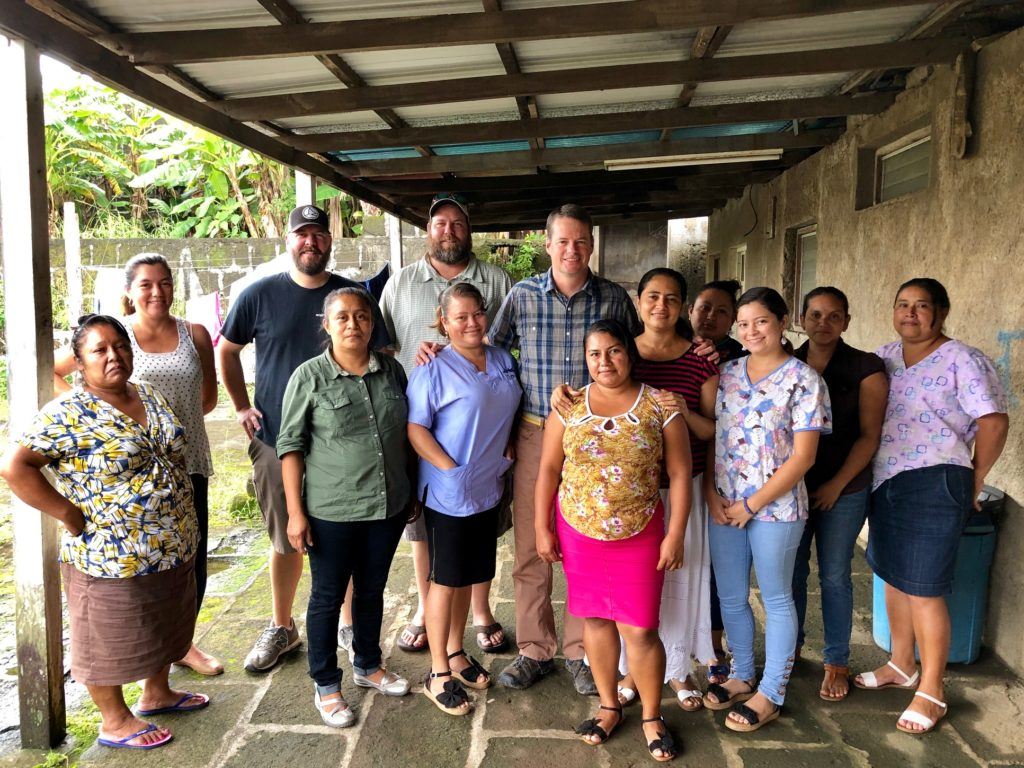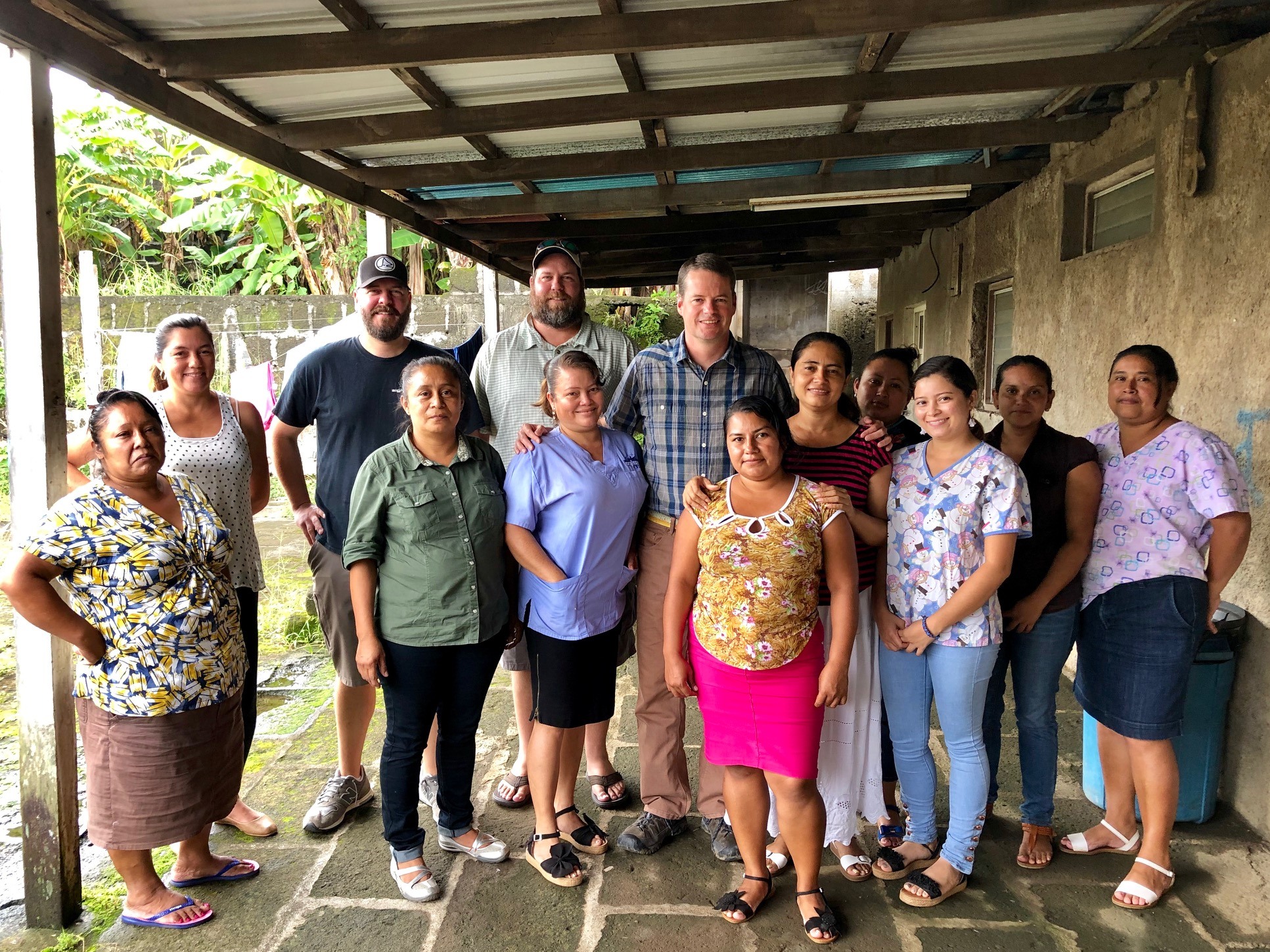 Catch you later!
Questions or Comments? Post here or email me: heath@buggsfishing.com